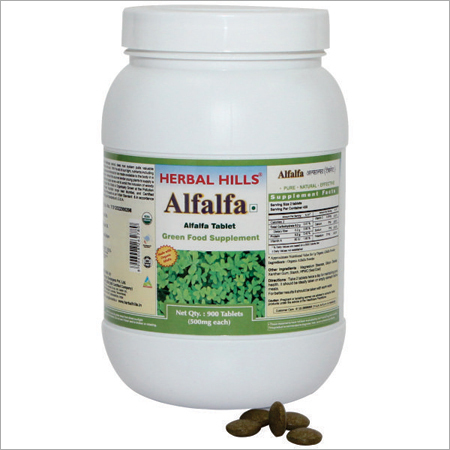 Product Description
Alfalfa Value Pack 900 tablets
Green Food Supplement


Alfalfa's (Medicago sativa) deep root system pulls valuable minerals from the soil. With the aid of sun light, nutrients including beta carotene and chlorophyll are made available to the body in a usable form. -Alfalfa is an excellent nutrient rich in a wide range of minerals like Calcium, Magnesium along with Vitamins like Vitamin E & Vitamin C.
-A high concentrate of Alkaloids makes Alfalfa useful in improving blood circulation & maintaining healthy Cholesterol levels.
Benefits :
-Excellent nutrient for the whole body
-Helps to improve blood circulation
-Helps maintain healthy cholesterol levels
-Rich source of essential Minerals, Vitamins
Tablet :
Take 2 tablets twice daily for maintaining good health or as directed by physician.