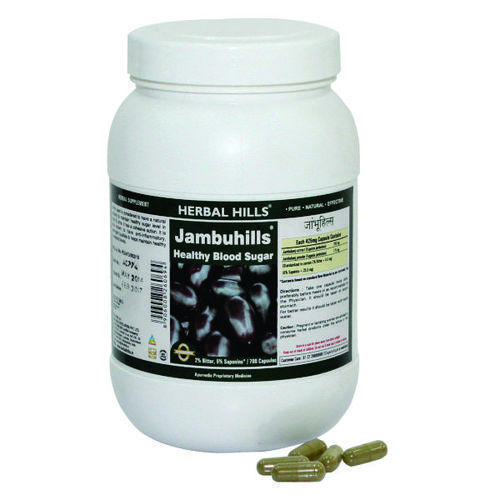 Anti Diabetic Medicine
Product Code : 2147
Product Description
Jambohills - Value Pack 700 Capsules
JambubeeJis considered to have a natural property to reduce sugar level in blood & urine. It has a cohesive action. It is also known to have anti-inflammatory, astringent qualities & helps maintain healthy cholesterol levels. Organic product to control sugar and prevent for diabetics. This Ayurvedic Supplement helps to maintain sugar level in Blood.
Did you Know ...
Each capsule contains 175 mg Jambu seed Powder and 250 mg of extract (as dry extract) from Jambu seeds (Eugenia jambolana) (20:1) (equivalent to 5000 mg of Jambu seeds). When assayed these tablets contain Bitter NLT 2%, Saponin 6%.
In Ayurvedic literature Jamun seeds have been mentioned to be useful in "Prameha" - Diabetes Mellitus. This has been backed by modern scientific literatures & publications. Jamun has been found useful in improving the functions of the pancreas. Astringent property of Jamun helps to bring about Healthy Blood sugar control and also control excessive urination in Diabetes.
Benefits :
Helpful in Diabetes Management by its Blood Sugar controlling effects.
Helps in proper functions of the Liver
Safe for Long term use along with modern medicines of Diabetes.
Direction for use :
Take 1 capsule twice daily, preferably after meals or as recommended by a physician. For better results it should be taken with warm water

Caution :
Pregnant or lactating women are advised to consume Herbal Products under advise of the Healthcare Practitioner. Store in a cool dry place away from direct sunlight. Keep out of reach of children.

Disclaimer :
These statements have not been evaluated by the Food & Drug Administration. This product is intended to enhance general health and is not intended to diagnose, treat, cure or prevent any disease.
Size of the Packing:
Length : 9 cm
Width : 9 cm
Height: 16.5 cm
Product Weight : 380 gms