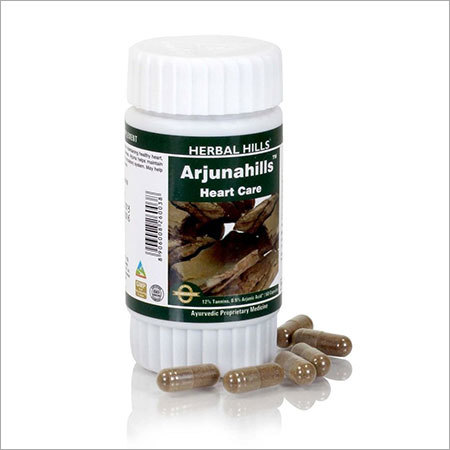 Product Description
Arjunahills - 60 capsules
Heart Care
Herbal Arjuna is the best herb that helps in maintaining healthy heart(cardiac control), relieving mental stress & nervousness. - Each capsule contains 250 mg Arjuna Powder and 250 mg of extract (as dry extract) from Arjuna Bark (Terminalia Arjuna) (8:1) (equivalent to 2000 mg of Arjuna Bark. When assayed these capsules contain Tannin NLT 12%, Arjunic acid 0.5%.
- In Ayurvedic herbalism for thousands of years, Arjuna has been historically used to improve heart function. Arjuna is considered to deliver optimum support for normal heart muscle function and coronary artery health. Terminalia Arjuna herb demonstrates antioxidant activities. This has been backed up with numerous modern scientific studies demonstrating the positive effect of its component herb to provide to support cardiovascular health and overall health and wellness. Arjuna helps in maintaining healthy cholesterol levels
Benefits :
- Heart health support that improves capillary circulation as well as cardiac muscle strength
- Antioxidant properties - help support heart and other vital organs from free radical damage
- Helps support healthy cholesterol levels
Direction of Use:
Take 1 capsule twice daily preferably after meals or as recommended by the physicianFor better results it should be taken with warm water.