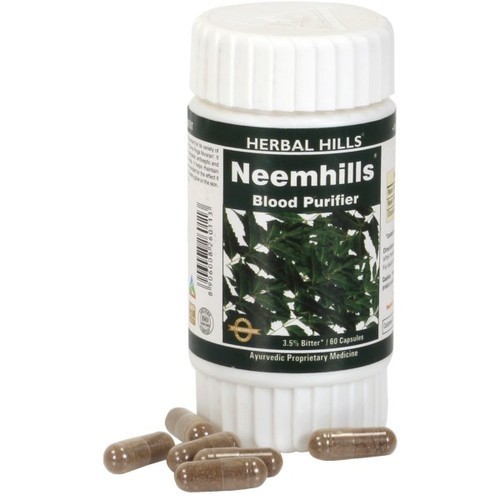 Ayurvedic Blood Purifier
Product Code : 2154
Product Description
Neemhills 60 Capsule : Blood purifier

Neem is considered as a wonder herb and is important for its variety of medicinal uses. In Sanskrit Neem herb is called 'Sarva Roga Nivaran'. It is considered to be natures best blood purifier, analgesic, antiseptic and one of the most important detoxicant in Ayurveda. It helps maintain healthy blood sugar level. Neem is highly recommended for the effect it has upon the skin. It is advised for maintaining a healthy glow on the skin. It also helps relieving intense itching & reddening.
Did you know
Each capsule contains 100 mg Neem Leaves Powder and 250 mg of extract (as dry extract) from Neem leaves (Azadirachta indica) (20:1) (equivalent to 5000 mg of Neem Leaves). When assayed these capsule contain Bitters NLT 3.5%.
Ayurveda mentions Neem to be an effective blood purifier, detoxifier and cleanser. Various scientific studies on Neem have proven its efficacy the management of various skin disorders.
Neem helps to control various allergic conditions and infection of the skin.
Benefits :
Helps in purifying and detoxifying blood.
Helps to impart natural health to the skin.
Directions for use :

Take 1 capsule twice daily, preferably after meals or as recommended by a physician. For better results it should be taken with warm water

Caution :Pregnant or lactating women are advised to consume Herbal Products under advise of the physician. Store in a cool dry place. Keep out of reach of children. Protect from sunlight.

Disclaimer : These statements have not been evaluated by the Food & Drug Administration. This product is not intended to diagnose, treat, cure or prevent any disease.
Size of the Packing:
Length : 5 cms

Width : 5 cms

Height: 10 cms

Product Weight : 70 gms