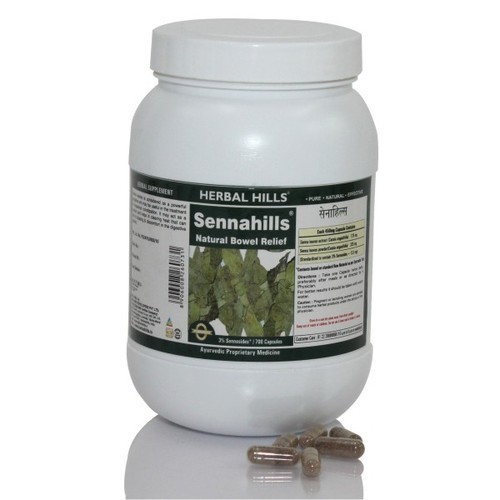 Best Constipation Treatment
Product Code : 2103
Product Description
Senna hills - Valvu Pack 700 Capsules
Natural Bowel Relief
Senna leaves is considered as a powerful purgative and may be useful in the treatment of habitual constipation. It may act a coolant and helps in clearing heat that can lead to bloating & discomfort in the digestive system.
Did you Know ...
Each capsule contains 325 mg Senna leaves Powder and 125 mg of extract (as dry extract) from Senna leaves ( Cassia augustifolia) (20:1) (equivalent to 2500 mg of Senna leaves). When assayed these capsules contain Calcium sennosides NLT 3%.
Ayurveda mentions Senna to be an excellent laxative. The same has been backed by numerous scientific studies and even modern medicine makes extensive use of Senna in their medicines.
Senna brings about movements of the intestine and ensures complete Bowel evacuation. This makes it very effective in constipation.
Benefits :
By its laxative property very useful in management of constipation
Supports to regulate Bowel movement & digestion
Helps to facilitate removal of toxins
Direction for use :
Take 1 capsule twice daily preferably after meals or as recommended by the physician.
For better results it should be taken with warm water.

Caution : Pregnant or lactating women are advised to consume Herbal Products under advise of the Healthcare Practitioner.
Store in a cool dry place away from direct sunlight. Keep out of reach of children.

Disclaimer : These statements have not been evaluated by the Food & Drug Administration. This product is intended to enhance general health and is not intended to diagnose, treat, cure or prevent any disease
Size of the Packing:
Length : 9 cms
Width : 9 cms
Height: 16.5 cms
Product Weight : 380 gms