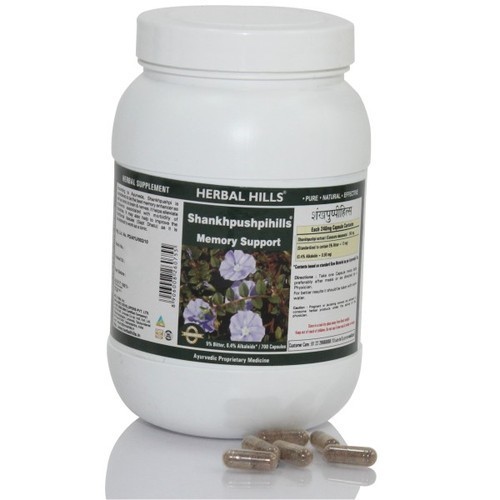 Brain Booster
Product Code : 2031
Product Description
Shankhpushpihills Memory Booster 700 Capsules


Each capsule contains 240 mg of extract (as dry extract) from Shankhpushpi Whole plant (Convolvulus pluricaulis) (10:1) (equivalent to 2400 mg of Shankpushpi whole plant.) When assayed these tablets contain Bitters NLT 5%, Alkaloids NLT 0.4%.
Since ancient times it is used as a brain tonic especially for children. It's anxiolytic & anti-depressant activity helps in maintaining normal blood pressure. Its safety & neuro-protective activity helps in persons who are old to maintain their cognitive health.

Benefits
Acts as Neuro protective
Has Anxiolytic / Antidepressant properties
Helps in cognitive brain function
Helps to calm the nervous system
Helps to support cognitive health & longevity

Direction for use : Take one capsule twice daily or as directed by the physician.