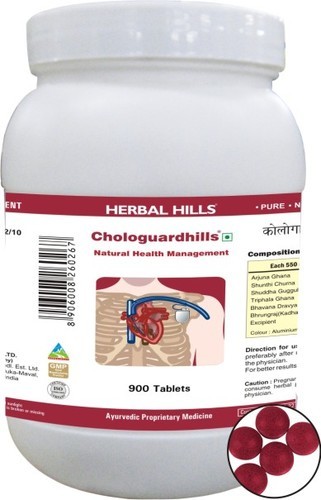 Cholesterol Control Medicine
Product Code : 2126
Product Description
Chologuardhills -Value Pack 900 Tablets
Natural Health Management

Chologuardhills is an ideal and potent combination of proven herbs that helps to maintain healthy blood cholesterol & lipid levels already within a normal range. Cardioprotective action of herbs like Arjuna helps to strengthen the heart.. Anti-oxidant property of Guggul helps prevent cardiac tissue damage by free radical scavenging property. Guggulipids in guggul have been scientifically proven for its lipid lowering properties. Triphala acts as an excellent blood purifier and detoxifier. It helps to remove excess fat and prevents cholesterol deposition..
Benefits :
Helps to maintain healthy lipid levels.
Helps to rejuvenate the body metabolism.
Helps fight free radicals. Helps to Support Cardiac Funcation..
Direction for use :
Take 1 tablet twice daily preferably after meals or as recommended by the physician.
For better results it should be taken with warm water.

Caution :
Pregnant or lactating women are advised to consume Herbal Products under advice of the physician.
Store in a cool dry place. Keep out of reach of children. Protect from sunlight.

Disclaimer :
These statements have not been evaluated by the Food & Drug Administration. This product is intended to enhance general health and is not intended to diagnose, treat, cure or prevent any disease