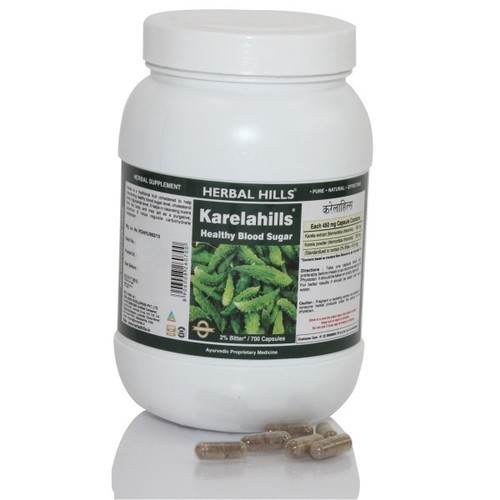 Diabetes Treatment
Product Code : 2139
Product Description
Karelahills - Value Pack 700 Capsules
Healthy Blood Sugar
Karela is a traditional fruit considered to help maintaining healthy blood sugar level(Diabetes Control), cholesterol level, triglyceride level. Ayurvedic Herbal helps in cleansing toxins from the body and may act as a purgative, appetizer & helps regulate carbohydrate metabolism.
Did you Know ...
Each capsule contains 200 mg Karela Powder and 250 mg of extract (as dry extract) from Karela Fruit (Momordica charantia) (20:1) (equivalent to 5000 mg of Karela fruit). When assayed these tablets contain Bitter NLT 2%.
Ayurveda describes Karela to be a bitter tonic to be useful in the management of Diabetes. It has also been backed by modern scientific research. Karela helps to improve the cellular functions of the pancreas. Additionally Karela is also beneficial in controlling blood lipid (Cholesterol levels)
Benefits :
Helps maintain normal Blood and Urine Sugar levels
Helps to regulate carbohydrate metabolism
Acts as a Bitter tonic - which helps to purify blood.
Direction for use :
Take 1 capsule twice daily, preferably after meals or as recommended by a physician. For better results it should be taken with warm water.
Caution : Pregnant or lactating women are advised to consume Herbal Products under advise of the Healthcare Practitioner.
Store in a cool dry place away from direct sunlight. Keep out of reach of children.

Disclaimer : These statements have not been evaluated by the Food & Drug Administration. This product is intended to enhance general health and is not intended to diagnose, treat, cure or prevent any disease.
Size of the Packing:
Length : 9 cms
Width : 9 cms
Height: 16.5 cms
Product Weight : 600 gms