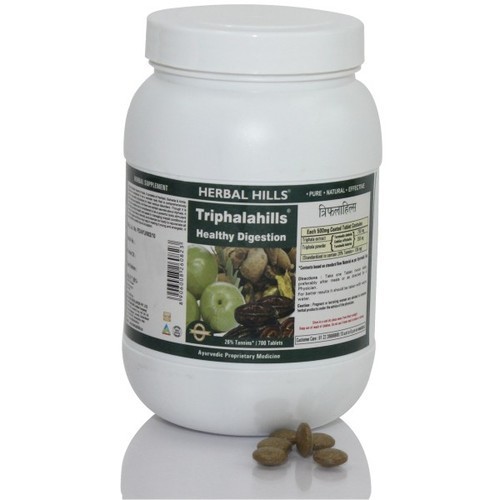 Digestive Disorders Treatment
Product Code : 2161
Product Description
Triphalahills - Value Pack 700 Tablet : Healthy Digestion::

Triphala literally means 3 fruits. It consists of Haritaki, Baheda & Amla. Triphala is considered to be a wonder herb that is comprehensively used by ayurvedic physicians to treat various disorders. Though it is widely used as a laxative, but there are certain secrets about triphala. It is not just a laxative but is considered to be a powerful body stimulant that helps promote health and assist in managing overall conditions of the body. It helps to detoxify and cleanse our body to rejuvenate all the body organs and thus may help in making it young and energetic. It helps maintain healthy blood circulation.

Did you know...
Each tablet contains 250 mg Triphala Fruit Powder and 250 mg of extract (as dry extract) from Triphala fruits (Mixture of Amla, Baheda, Harde) (4:1) (equivalent to 1000 mg of Triphala fruits).
When assayed these tablets contain tannins NLT 26%.In Ayurvedic herbalism for thousands of years, Triphala has been historically used as a digestive cleanser and tonifier This has been backed up with numerous modern scientific studies demonstrating the positive effects of its component herbs on the gastrointestinal tract. In addition, Triphala has been shown to be a Tridoshic rasayana (Ability to balance Vata, Pitta, Kapha), a potent antioxidant, protecting cells against the damaging effects of free radicals.
Benefits :
Acts as a safe & effective colon cleanser.
Excellent digestive & metabolic tonic, helps in toning up the Digestive system.
Supports effectively in relieving mild to moderate constipation.
Balances all the doshas and thus help improve overall general health.
Direction for use :
Take 1 tablet twice daily preferably after meals or as recommended by the physician.
For better results it should be taken with warm water.

Caution : Pregnant or lactating women are advised to consume Herbal Products under advise of the Healthcare Practitioner.
Store in a cool dry place away from direct sunlight. Keep out of reach of children.

Disclaimer : These statements have not been evaluated by the Food & Drug Administration. This product is intended to enhance general health and is not intended to diagnose, treat, cure or prevent any disease
Size of the Packing:
Length : 9 cm
Width : 9 cm
Height: 16.5 cm
Product Weight : 500 gms