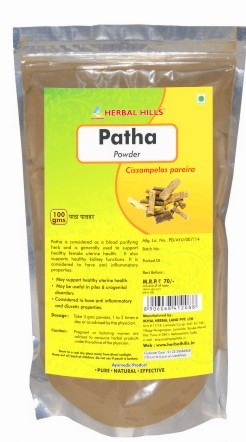 Product Description
Patha Powder: 100g
Patha Commony know as "Cissampelos pareira". It is also called laghu patha in Ayurvedic medicine. considered as a blood purifying herb and is generally used to support healthy female uterine health. It also supports healthy kidney functions. It is considered to have anti inflammatory properties.
Key Points:
- May be useful in piles & urogenital disorders
- May support healthy uterine health.
- Considered to have anti inflammatory and diuretic properties.

Direction of Use:
Take 3 gms powder, 1 to 2 times a day or as advised by the physician.