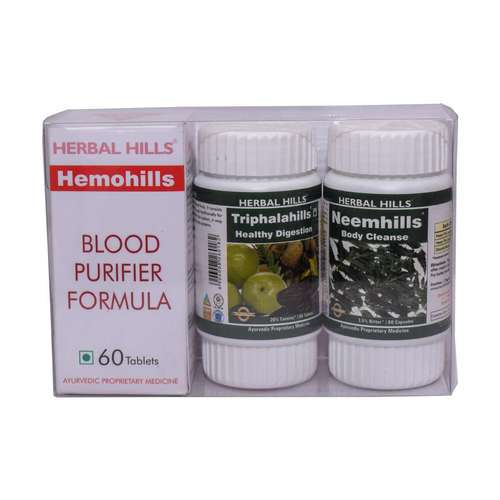 Product Description
Hemohills - Value Pack 900 Tablet : Blood Purifier

Main Ingredients : Manjishtha, Neem, Sariva, Triphala, Harde, Kumari
Hemohills is a unique herbal blend of all natural herbs to support the body's ability to effectively detoxify the body and purify the blood.
Manjishtha is known as the best blood purifier in the Ayurveda. It helps remove toxins from the body. Sariva is popular mainly for its blood purifying and cooling attributes.
Balharde acts as an astringent, tonic & blood purifier.
Triphala is an effective bowel and blood cleanser.
Benefits :
Helps in blood purification
Helps maintain healthy digestive system
Assists in detoxification
Direction for use :
Take 2 tablets twice a day for maintaining good health. It should be ideally be taken on empty stomach before meals. For better results it should be taken with warm water.
Caution :
Pregnant or lactating women are advised to consume Herbal Products under advice of the Healthcare Practitioner.
Store in a cool dry place. Keep out of reach of children. Protect from sunlight.
Disclaimer :
These statements have not been evaluated by the Food & Drug Administration. This product is intended to enhance general health and is not intended to diagnose, treat, cure or prevent any disease