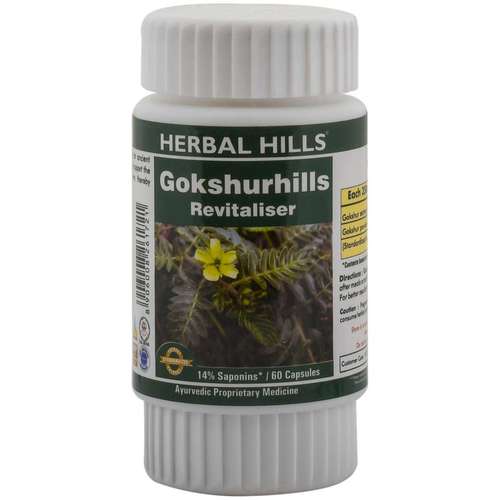 Gokshur Capsules - Gokshurhills 60 Capsule
Product Code : GK172
Product Description
Product Specification of gokshur capsules is mentioned as below :

Gokshurhills 60 capsules - Revitaliser

Gokshur is well thought-out to be diuretic and aphrodisiac.
Each of these capsules comprises of 100 mg Gokshur Powder and around 250 mg of extract (which comes as dry extract) from Gokshur whole plant (Tribulus terrestris) (7:1) (which is equal to 1750 mg of Gokshur whole plant). When it is assessed and evaluated then these capsules comprises of Saponin NLT 14.3%.
In Ayurveda it has been included in the "Shukrayanan" family, i.e. the one which is answerable for hale and hearty and vigorous sperms. Its aphrodisiac property aids and assists in amplifying the count of the sperm and further enhancing the overall parameters of the sperms.
Benefits of gokshur capsules is mentioned as below :

It Has confirmed to have spermatogenetic action
It also has aphrodisiac features
It enhances the overall quality of the sperms