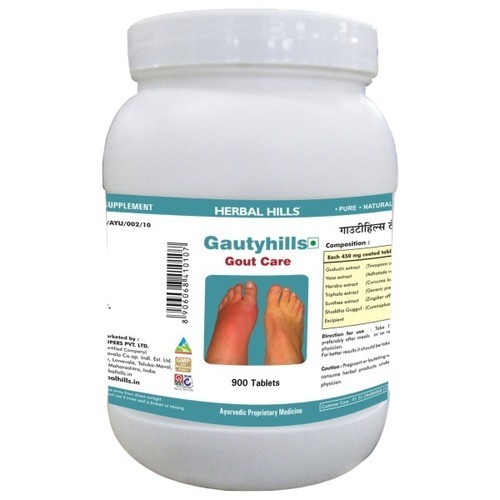 Gout Medicine
Product Code : 2193
Product Description
"Gautyhills Value Pack 900 tablets Gout Care
Gautyhills is a unique Ayurvedic formulation of all natural herbs that helps to give relief from pain, swelling and inflammation occured due to Gaut.
Guduchi is revered for being one of Ayurveda's most famous adaptogen. Its alkaloidal constituents give it analgesic & antipyretic properties that help in controlling gout, arthritic and other inflammatory joint conditions.
Vasa and Shuddha Guggul have anti inflammatory properties and are useful in inflammatory conditions.
Benefits :
· Aids in symptomatic relief of Gout, including joint pain, swelling and inflammation
· Helps maintain healthy uric acid levels.
· Helps maintain joints health.
Directions of use :
Take 1 tablet twice daily, preferably after meals or as recommended by a physician. For better results it should be taken with warm water
Caution : Pregnant or lactating women are advised to consume Herbal Products under advise of the physician. Store in a cool dry place. Keep out of reach of children. Protect from sunlight.
Disclaimer : These statements have not been evaluated by the Food & Drug Administration. This product is not intended to diagnose, treat, cure or prevent any disease.
Size of the Packing:
Length : 9 cms
Width : 9 cms
Height: 16.5 cms
Product Weight : 650 gms "