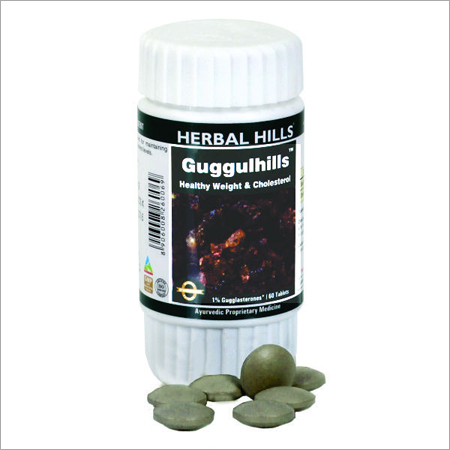 Guggulhills 60 Tablets
Product Code : 199
Product Description
Guggulhills 60 tablets : Healthy Weight & Cholesterol
Guggul is a very effective herb for maintaining healthy weight and cholesterol levels
-Each tablet contains 500 mg of extract (as dry extract) from Guggul (Commiphora mukul) (6:1) (equivalent to 3000 mg of Guggul exudate). When assayed these Tablets contain Guggulsterone NLT 1%.
- The gum resins derived from the Guggul tree are known to possess anti-inflammatory activity. Besides, it also has strong anti-lipidemic property, which helps in the management of normal cholesterol levels.
Benefits :
- Anti-lipidemic activity prevents accumulation of fatty substances which helps in weight management
- Anti-inflammatory & analgesic property helps relieving joint pain

Direction of Use:
Take 1 tablet twice daily preferably after meals or as recommended by the physician. For better results it should be taken with warm water.