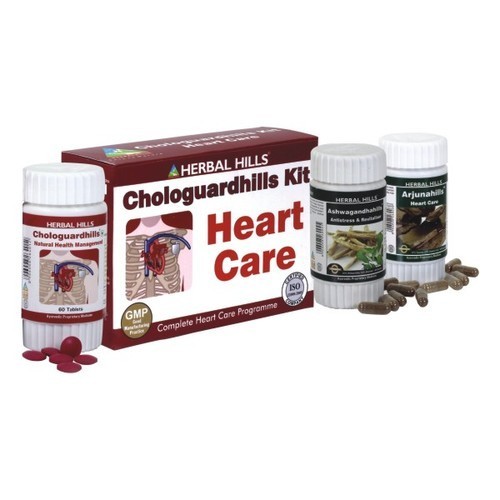 Product Description
Cardiac Care Kit
Contains
1) Chologuardhills 60 tablets
2) Arjunahills 60 capsules
3) Ashwagandhahills - 60 Capsules
Main ingredient Chologuardhills Formulation supported by Single herb Arjunahills Green food Supplement Dudhi Power to give Complete, effective & speedy result in helping to cure heart problems
1) Chologuardhills 60 tablets : Natural Health Management
Chologuardhills is an ideal and potent combination of proven herbs that helps to maintain healthy blood cholesterol & lipid levels already within a normal range. Cardioprotective action of herbs like Arjuna helps to strengthen the heart. Anti-oxidant property of Guggul helps prevent cardiac tissue damage by free radical scavenging property. Guggulipids in guggul have been scientifically proven for its lipid lowering properties. Triphala acts as an excellent blood purifier and detoxifier. It helps to remove excess fat and prevents cholesterol deposition.
Benefits :
Helps to maintain healthy lipid levels,
Helps to rejuvenate the body metabolism,
Helps fight free radicals. Helps to Support Cardiac Funcation..
2) Arjunahills 60 capsules : Heart Care
Herbal herbs Arjuna is the best herb that helps in maintaining healthy heart(cardiac control), relieving mental stress & nervousness. Arjuna helps maintain cardio vascular function & healthy circulatory system. Current scientific researches have proved that Arjuna acts as a cardio protective agent. Helps maintaining healthy cholesterol levels. Ayurvedic Medication for Heart diseases.
Benefits :
Helps to maintain cardio vascular function & healthy circulatory system
Acts as cardio protective agent

3) Ashwagandhahills - 60 Capsules
Ashwagandha is a herb that may help reduce anxiety and stress levels, increase vitality, vigor & control fatigue. It helps improve both physical and mental performance. It is used for Stress Control Management medicine. Ashwagandha is also known as Indian Ginseng. Helps rejuvenate the nervous system. As an adaptogen, Ashwagandha helps in having a positive effect in maintaining healthy immune system. Organic herbal product manufacturer and Exporter in India.
Benefits :
Helps in rejuvenating body and balya - increasing muscle strength
Direction for use : Take one each of Chologuardhills tablet, Arjunahills capsule & Ashwagandhahills capsule twice daily preferably after meals or as recommended by the Healthcare Practitioner. For better results it should be taken with warm water

Caution :
Cautions : * Pregnant or lactating women are advised to consume Herbal Products under advise of the Healthcare Practitioner. Store in a cool dry place. Keep out of reach of children. Protect from sunlight.

* These statements have not been evaluated by the Food & Drug Administration. This product is not intended to diagnose, treat, cure or prevent any disease.
Direction of Use:
Take one each of Chologuardhills tablet, Arjunahills capsule & Ashwagandhahills capsule twice daily preferably after meals . For better results it should be taken with warm water