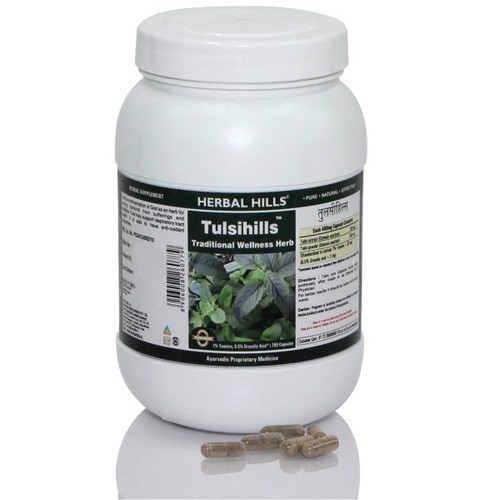 Herb for Weak Immune System
Product Code : 2014
Product Description
Tulsihills - Value Pack 700 Capsule : Traditional Wellness Herb

Tulsi (Holy Basil) is a reincarnation of God as an herb for saving mankind from sufferings and miseries. Holy Basil may be beneficial in respiratory tract infections because it is considered to have anti inflammatory, anti-viral, anti-microbial and anti-allergic properties. As it is said to have anti-oxidant properties, it may be used as a wonderful tonic for humans.
Did you Know...
Each capsule contains 200 mg Tulsi Powder and 200 mg of extract (as dry extract) from Tulsi Leaves (Ocimum sanctum) (15:1) ( equivalent to 3000 mg of Tulsi Leaves). When assayed these capsules contain Tannin NLT 7%, Ursolic Acid NLT 0.5%.
Tulsi is traditionally also known as Bhutagni, which points towards its antimicrobial property. This plant is present in the outdoor of almost every Indian house, considered as Sacred plant which promotes health & longevity.
Benefits :
Acts as a Powerful antioxidant
Helps to enhance immunity
Acts as an adaptogenic agent.
Direction for use :
Take 1 capsule twice daily preferably after meals or as recommended by the physician.For better results it should be taken with warm water.

Caution : Pregnant or lactating women are advised to consume Herbal Products under advise of the Healthcare Practitioner.
Store in a cool dry place away from direct sunlight. Keep out of reach of children.

Disclaimer : These statements have not been evaluated by the Food & Drug Administration. This product is intended to enhance general health and is not intended to diagnose, treat, cure or prevent any disease.
Size of the Packing:
Length : 9 cms
Width : 9 cms
Height: 16.5 cms
Product Weight : 380 gms