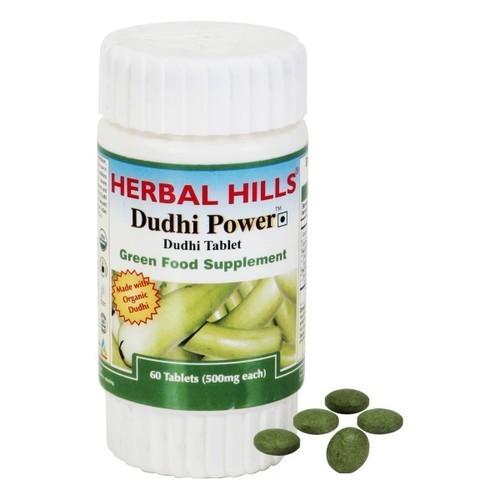 Product Description
Dudhi Power 60 Tablets - Green Food Supplement

Dudhi (Bottle gourd) is high in dietary fibre, vitamain C, Riboflavin, Zinc, Thiamine, Iron, Magnesium, Manganese etc. It is also low in saturated fat and cholesterol. It is considered to be useful in conditions of constipation, urinary disorders, excessive thirst due to severe diarrhoea, diabetes. It is also said to help control cholesterol and considered effective on joint pain and weight loss.

Did you Know ...
Dudhi (Bottle gourd) a rich source of Dietary fiber that helps in Fat & fluid metabolism of the body and thus helps to maintain healthy weight & cholesterol.
Also Dudhi is an excellent Liver tonic
While helping in Weight Management, Dudhi also provides essential nutrients like Magnesium, Manganese etc.
Benefits :
Helpful in maintaining healthy weight
Rich source of fiber and other essential nutrients
Helpful in constipation and to improve bowel movements
Supports in improving Liver functions.
Direction for use :
Take 2 tablets twice a day for maintaining good health. It should be ideally be taken on empty stomach before meals. For better results it should be taken with warm water.
Caution :

Caution :
*Pregnant or lactating women are advised to consume Herbal Products under advise of the Healthcare Practitioner. Store in a cool dry place. Keep out of reach of children. Protect from sunlight.

* These statements have not been evaluated by the Food & Drug Administration. This product is not intended to diagnose, treat, cure or prevent any disease.
Size of the Packing:
Length : 5 cms
Width : 5 cms
Height: 10 cms
Product Weight : 72 gms