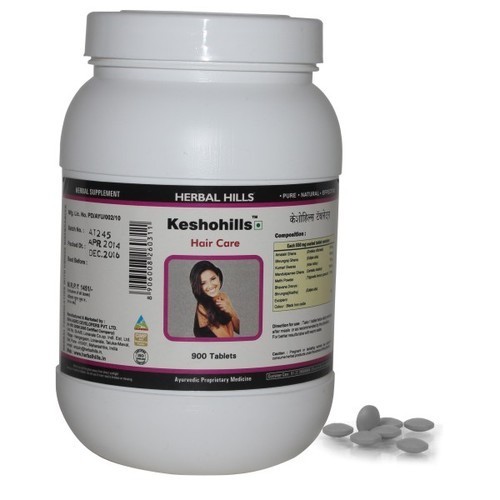 Herbal Hair Fall Treatment
Product Code : 2053
Product Description
Long & Healthy Hair
Keshohills - Value Pack 900 Tablets
Keshohills is an oral hair tonic that helps to promote & maintain health of hair. Amla helps to promote hair growth & pigmentation which reduces graying of hair. It is also excellent for strengthening the roots of hair, maintain colour & lustre. Mandukparnee is a nervine tonic & stimulant for hair growth. Bhrungraj has a 'keshya' effect which means that it directly nourishes & improves hair.
Did you Know ...
Amla is known to be one of the best Hair Tonic that helps to improve health of the Hair, preventing its fall & premature graying
Bhrungraj helps to promote normal pigmentation of hair and thus prevents and delays premature graying
Mandukparni contains asiaticosides that helps to improve blood circulation and relocation
Methi has excellent anti-inflammatory properties and helps to treat scalp dandruff
Benefits :
Acts as an excellent tonic to the hair and scalp
Promotes growth of Hair and helps control hair fall
Enhances hair pigmentation and delays premature graying
Helps in controlling dandruff.
Direction for use :
Take 2 tablets twice a day for maintaining good health. It should be ideally be taken on empty stomach before meals. For better results it should be taken with warm water.
Caution :
Pregnant or lactating women are advised to consume Herbal Products under advice of the Healthcare Practitioner.
Store in a cool dry place. Keep out of reach of children. Protect from sunlight.

Disclaimer :
These statements have not been evaluated by the Food & Drug Administration. This product is intended to enhance general health and is not intended to diagnose, treat, cure or prevent any disease.
Size of the Packing:
Length : 9 cms
Width : 9 cms
Height: 16.5 cms
Product Weight : 600 gms