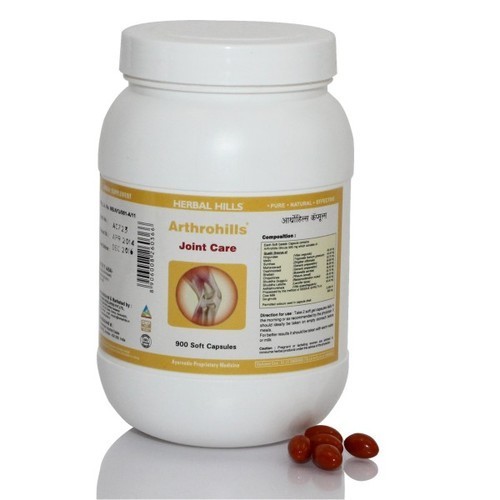 Herbal Joint Care Value Pack
Product Code : 2209
Product Description
Arthohills - Value Pack 900 Capsules

Arthrohills soft capsule is a multi ingredient formulation with Maharasnadi quath (36 herbs) & Dashamooladi quath (10 herbs) along with other time honoured herbs. Maharasnadi quath has analgesic, antiphlogistic properties & supports the treatment of symptoms associated with rheumatism & arthritis. Dashamooladi quath (decoction prepared from 10 roots) helps in cases of arthritis & sciatica. Guggul is the most ancient herb that helps in relieving mild, temporary pain and swelling due to exercise or normal overuse.

Did you Know...
The selection of herbs in Arthrohills is based upon a long standing use as a traditional solution to promote joint health, control natural inflammatory responses within the body and maintain healthy nerve and tissue function.
Nirgundi contains alkaloids, glycosides, flavonoids, resins and tannins. It has potent anti inflammatory and analgesic properties.
Methi has steroidal saponins help reduce inflammation and pain in joints.
Sunthee(Dry ginger) contains very potent anti-inflammatory compounds called gingerols, which in reducing inflammation and control arthritis pain.
Guggulsterone isolated from guggul has been identified as the bioactive constituent which helps to relieve pain and inflammation associated with joint disorders, arthritis and rheumatism.
Benefits :
Helps in reducing inflammation and pain
Support to restore joint mobility
Helps in improving the strength of muscles and ligaments
Helps in strengthening bones and joints
Helps in improving joint flexibility.
Directions for use :
Take 2 soft gel capsules daily in the morning with water or milk. It should ideally be taken on empty stomach before meals.
For better results it should be taken with warm water.

Caution : Pregnant or lactating women are advised to consume Herbal Products under advise of the physician. Store in a cool dry place. Keep out of reach of children. Protect from sunlight.

Disclaimer : These statements have not been evaluated by the Food & Drug Administration. This product is not intended to diagnose, treat, cure or prevent any disease.
Size of the Packing:
Length : 9 cms

Width : 9 cms

Height: 16.5 cms

Product Weight : 600 gms