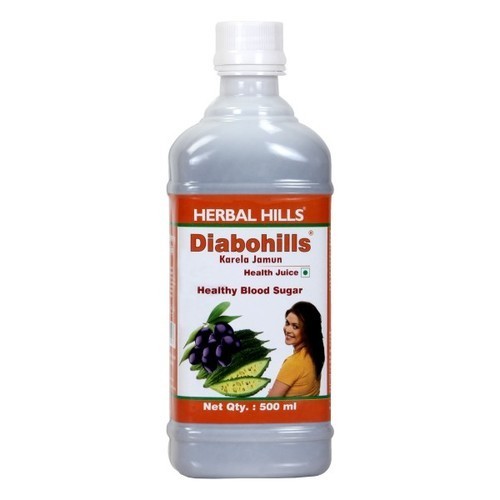 Herbal Juice for Diabetes
Product Code : 2138
Product Description
Diabetes Management
Diabohills Karela Jamun Juice - 500 ml
Main Ingredients : Jambu, Karela, Guduchi, Amla, Baheda, Harde, Sunthee, Turmeric, Neem, Fenugreek, Gurmar, Ashwagandha, Kadu chirayta, Shatavari
Diabohills juice with a potent combination of Bitter Gourd & Jambu which helps to maintain healthy blood sugar levels. Bitter Gourd is very low in calories, rich in phyto-nutrients like dietary fiber, minerals, vitamins and anti-oxidants. Bitter Gourd notably contains phyto-nutrient, polypeptide-P. In addition it also contains hypoglycemic agent called charantin which may help to increase glucose uptake and glycogen synthesis in the cells of liver, muscle and adipose tissue. Jamun (Java Plum) : Jamun is a rich source of vitamin A and vitamin C. This fruit contains a large number of minerals and provide fewer calories.
Did you Know ...
The selection of herbs in Diabohills Juice is based upon long-standing use as a traditional remedy to support healthy blood sugar. It also helps in maintaining healthy lipid levels.
Gurmar is considered to support the pancreatic function and healthy glucose metabolism.
Karela is considered as a bitter tonic and has been historically used to maintain healthy blood sugar levels.
Jamun is a rich source of vitamin A and vitamin C.
Amla and Guduchi are considered to have antioxidant, tissue healing properties, antilipidemic and hypoglycemic properties.
Turmeric helps in cleansing blood and delaying diabetic complications
Baheda, Harde, Sunthee helps to remove toxins from the body thus helps in blood purification
Numerous modern scientific studies support the positive effects of the component herbs to support pancreatic health, immune function and help against occasional fatigue.
Benefits :
Helps in the health management of Diabetes
Helps to delay diabetic complications
Helps improve energy levels and reduce fatigue.
Antioxidant and immunity enhancing property controls recurrent infections.
Direction for uses :
Take 30 ml Diabohills juice mixed with 100 ml water or fruit juice or have it plain
Caution :
Pregnant or lactating women are advised to consume Herbal Products under advise of the physician. Store in a cool dry place. Keep out of reach of children. Protect from sunlight.
Disclaimer :
These statements have not been evaluated by the Food & Drug Administration. This product is not intended to diagnose, treat, cure or prevent any disease.
Size of the Packing:
Length : 14 cms
Width : 5.25 cms
Height: 20.5 cms
Product Weight : 584 gms