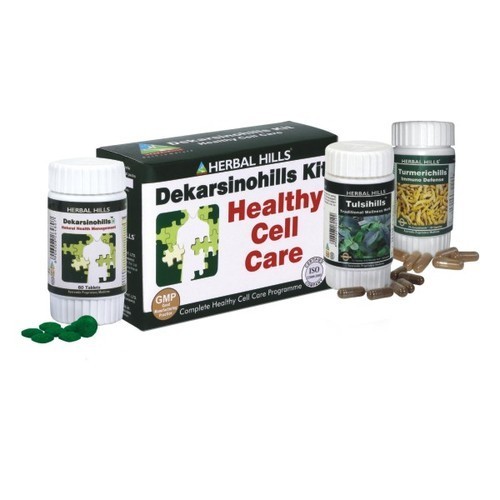 Herbal Medicine for Cancer Health
Product Code : 2212
600.00 - 700.00 INR
Price And Quantity
Minimum Order Quantity

:

500
Unit of Measure

:

Piece/Pieces
Price Range

:

600.00 - 700.00 INR
Product Specifications
Product Type

:

Herbal Medicine
Treatments & Functions

:

Immune & Anti-Fatigue
Physical Form

:

Tablets
Ingredients

:

Dekarsinohills (Guduchi, Kanchanar, Triphala, Trikatu, Garlic, Ashwagandha, Shuddha Guggul, Turmeric, Tulsi, Papaya leaves, Betel leaves) + Tulsihills (Tulsi extract, Tulsi powder) + Turmerichills (Haldi extract, Haldi powder)
Dosage Guidelines

:

Take 1 each of Dekarsinohills tablet, Tulsihills capsule & Turmerichills capsule twice daily preferably after meals. For better results it should be taken with warm
Age Group

:

For Adults
Storage Instructions

:

For External Use only, Keep in a cool and dry place, away from direct sunlight or heat.
Product Description
Healthy Cell Care Kit
Contains
1) Dekarsinohills 60 tablets
2) Turmerichills 60 tablets
3) Tulsihills 60 Capsule
Main ingredient Dekarsinohills Formulation supported by Green Food Supplement Wheat-O-Power Barley Grass tablets to give Complete, effective & speedy result in supporting to fight cancer

1) Dekarsinohills 60 tablets : Natural Health Management
Ayurveda considers cancer to be an imbalance of the three doshas -Vata, Kapha, Pitta. Dekarsinohills is a herbal formulation consisting of multiple herbs each possessing tremendous potential to support fight cancer. The herbs work in synergy on multiple biochemical pathways and are capable of nourishing the body as a whole by supporting several organ systems simultaneously. The formula may also help enhance the effects of radiation therapy on those cells thus increasing immunity power and can help prevent chemotherapy induced neutropenia. Trikatu acts as an antioxidant and help control cell mutations.

Benefits :

As a competency therapy in treatment of cancer
Reduces fatigue, Boosts immunity
2) Turmerichills 60 Capsule :
Imuno Defense

Each capsule contains 150 mg Turmeric Powder and 150 mg of extract ( as dry extract) from Turmeric rhizome (Curcuma longa) (7:1) (equivalent to 1050 mg of Turmeric rhizome). When assayed these capsules contain curcuminoids 3%.
Turmeric (Haridra) is one of the most common plant which is used in every household. Its anti-inflammatory property is used in treating common cough & cold. Its strong antimicrobial property is used as a first line remedy on cuts & wound. It is also known as potent lipolytic.

Benefits :
Has anti-inflammatory properties.
Has antimicrobial & wound healing properties
Aids in the maintenance of general well being.
3)Tulsihills 60 Capsule : Traditional Wellness Herb

Tulsi (Holy Basil) is a reincarnation of God as an herb for saving mankind from sufferings and miseries. Holy Basil may be beneficial in respiratory tract infections because it is considered to have anti inflammatory, anti-viral, anti-microbial and anti-allergic properties. As it is said to have anti-oxidant properties, it may be used as a wonderful tonic for humans.

Benefits :
Helps maintain a strong immune system
Helps to delay age related changes.
Direction for use :
Take 1 each of Dekarsinohills tablet, Tulsihills capsule & Turmerichills capsule twice daily preferably after meals or as directed by the physician. For better results it should be taken with warm
Cautions :
* Pregnant or lactating women are advised to consume Herbal Products under advise of the physician. Store in a cool dry place. Keep out of reach of children. Protect from sunlight.
* These statements have not been evaluated by the Food & Drug Administration. This product is not intended to diagnose, treat, cure or prevent any disease.


Direction for use :
Take 1 each of Dekarsinohills tablet, Tulsihills capsule & Turmerichills capsule twice daily preferably after meals or as directed by the physician. For better results it should be taken with warm