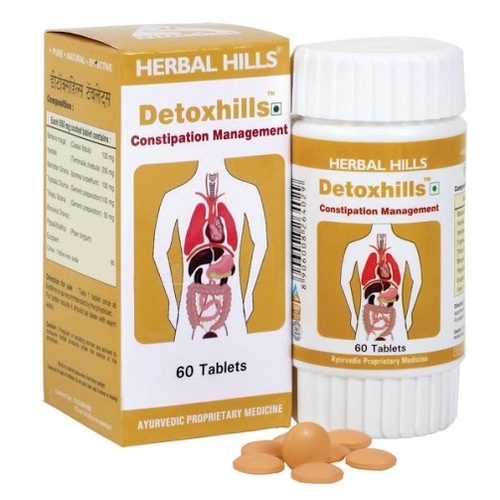 Herbal Medicine for Constipation
Product Code : 2101
Product Description
Detoxhills - Value Pack 700 TabletsConstipation Management
Detoxhills is a natural, safe and effective colon cleanser. Triphala is an age old, tested combination to treat constipation. Apart from treating constipation, it also helps in improving digestion and appetite. It creates a conducive environment in the intestine for absorption of nutrients and thus improves overall health. Trikatu is an excellent digestive combination. Nishottar, Haritaki helps to cleanse colon by their mild purgative action. Bahava magaj helps to form stools.
Did you Know ...
Triphala : It is the combination of 3 fruits viz: Amla, Baheda & Harde in equal proportions. It is historically used as laxative & an effective colon cleanser. It not only helps clean the bowels, but also aids in digestion.
Trikatu : It is the combination of Sunthee, Miri, Pippali. The unique combination works as an appetizer, digestive & stimulates various metabolic activities which are helpful in digestion
Harde : Supports normal detoxification of the digestive tract and normal bowel movements
Bahava Magaj with its mild purgative activity, cleanses colon & detoxifies digestive tract without causing dehydration.
Benefits :
Supports normal bowel functions.
Helps in detoxifying digestive toxins & thus aid digestion.
Helps in relieving occasional constipation.
Supports healthy digestion.
Direction for use :
Take 1 tablet twice daily preferably after meals or as recommended by the physician.
For better results it should be taken with warm water.

Caution :
Pregnant or lactating women are advised to consume Herbal Products under advice of the physician.
Store in a cool dry place. Keep out of reach of children. Protect from sunlight.

Disclaimer :
These statements have not been evaluated by the Food & Drug Administration. This product is intended to enhance general health and is not intended to diagnose, treat, cure or prevent any disease
Size of the Packing:
Length : 9 cms
Width : 9 cms
Height: 16.5 cms
Product Weight : 380 gms