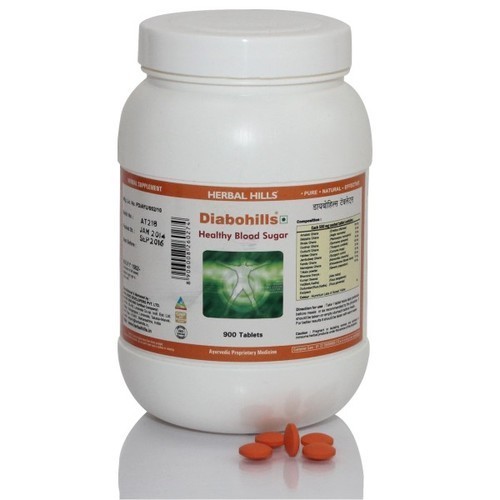 Product Description
Healthy Blood Sugar
Diabohills - Value Pack 900 Tablets
Main Ingredients : Gudmar, Karela, Jambu seeds, Amla, Bivala, Guduchi, Mamejawa
Diabohills is a unique combination of herbs that help in managing blood sugar levels, Helps in maintaining blood sugar levels. Anti-oxidant property of herbs like Amla helps to prevent tissue damage by its free radical scavenging property. Herbs like Vijaysar (Bivala) & Mamejava have insulin like activity and help in pancreatic cell regeneration. Gymnemic acid in Gudmar helps support healthy blood sugar levels already within normal range. Guduchi has immunomulatory activity.
Did you Know ...
Jambu besides its anti-diabetic activity, also helps in alleviating symptoms of polyured & polypepsia
Karela is traditionally used as a potent anti-diabetic herb. It helps in insulin sensitisation.
Amla & Guduchi being rich in nutrients, its rejuvenative property helpful in supporting protection against diabetic complications. Its antioxidant property helps in providing protection to key organs from free radicals
Gudmar - the name itself is symbolic of its activity. Several scientific papers are published to establish antidiabetic & insulin sensitizing property of Gudmar.
Mamejawa is considered to have anti oxidant, Anti lipidemic and hypoglycemic properties.
Benefits :
Helps in maintaining normal sugar levels
Helps in maintaining glucose metabolism
Supports normal lipid metabolism.
Direction for use :
Take 2 tablets twice a day for maintaining good health. It should be ideally be taken on empty stomach before meals. For better results it should be taken with warm water.
Caution :
Pregnant or lactating women are advised to consume Herbal Products under advice of the physician.
Store in a cool dry place. Keep out of reach of children. Protect from sunlight.

Disclaimer :
These statements have not been evaluated by the Food & Drug Administration. This product is intended to enhance general health and is not intended to diagnose, treat, cure or prevent any disease.
Size of the Packing:
Length : 9 cms
Width : 9 cms
Height: 16.5 cms
Product Weight : 600 gms