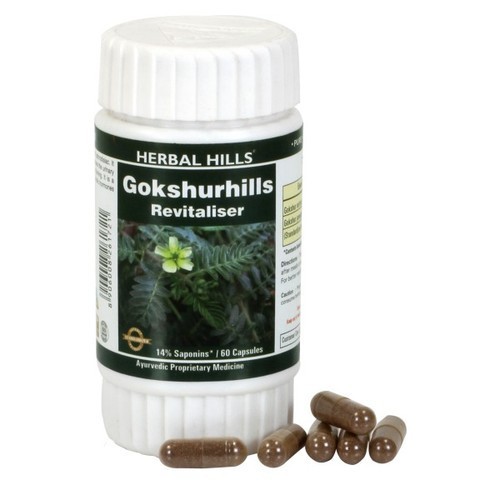 Herbal Tonics
Product Code : 01997
Product Description
Revitaliser
Gokshurhills - 60 Capsules
Gokshur is considered to be diuretic and . It increases the strength of the body, cleanses the urinary system & is helpful in urino genital functioning. It is a natural herbal alternative to synthetic anabolic hormones without any clinically proven toxic effects.
Did you Know...
Each capsule contains 100 mg Gokshur Powder and 250 mg of extract (as dry extract) from Gokshur whole plant (Tribulus terrestris) (50:1) (equivalent to 12500 mg of Gokshur whole plant). When assayed these capsules contain Saponin NLT 14.3%.
In Ayurveda it is included in "Shukrayanan" family, i.e. the one responsible for healthy s Its property helps in increasing the sper.m count & improving sperm parameters.
Benefits :
Has proven atogenetic action
Has properties
Improves quality of sperm
Direction for use :
Take 1 capsule twice daily preferably after meals or as recommended by the physician.For better results it should be taken with warm water.

Caution :
Store in a cool dry place away from direct sunlight. Keep out of reach of children.

Disclaimer : These statements have not been evaluated by the Food & Drug Administration. This product is intended to enhance general health and is not intended to diagnose, treat, cure or prevent any disease
Size of the Packing:
Length : 5 cms
Width : 5 cms
Height: 10 cms
Product Weight : 72 gms