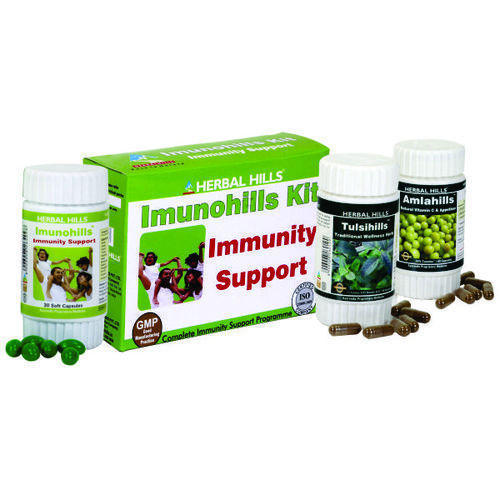 Immune Booster Medicine
Product Code : 2020
Product Description
Immunity Booster Kit
Contains :
1) Imunohills 30 Soft gel capsules
2) Tulsihills 60 capsules
3) Amlahills - 60 Capsules

Duplex board box of Imunohills Kit contains 1) Imunohills 30 Soft gel capsules 2) Tulsihills 60 capsules 3) Amlahills 60 capsules

1) Imunohills 30 Soft gel capsules : Immunity Booster

Imunohills soft capsule is a powerful combination of several herbs which exhibit immense medicinal value against many diseases, increases immunity power. Amla rejuvenates the body, enhances longevity & delays sign of ageing. It is a great anti-oxidant & detoxifier.Guduchi(Gulvel) is a great Rasayana herb which improves body's resistance power & is a powerful immunity booster. Gokshura is a fantastic herb with healing properties & a broad range of actions like detoxification through urinary system.

Benefits :
Helps in detoxification of the body
Supports healthy Immune System
Supports anti-ageing
Helps energizing the body

2) Tulsihills 60 capsules - Traditional Wellness Herb

Tulsi (Holy Basil) is a reincarnation of God as an herb for saving mankind from sufferings and miseries. Holy Basil may be beneficial in respiratory tract infections because it is considered to have anti inflammatory, anti-viral, anti-microbial and anti-allergic properties. As it is said to have anti-oxidant properties, it may be used as a wonderful tonic for humans.

Benefits :
Helps maintain a strong immune system
Helps to delay age related changes.

3) Amlahills - 60 Capsules

Amla (Indian Gooseberry) is considered to be one of the strongest rejuvenation & anti- oxidant herb. It is rich herbal source of Vitamin C & iron. It helps increasing red blood cells & rebuilding as well as maintaining new tissues. Helps improve eyesight,relieving inflammation of the stomach and colon, cleanses the intestine.
Benefits :
Excellent hair tonic,
Nourishes the hair and scalp.
Directions for Use :
Take 2 Imunohills capsules daily in the morning or as recommended by the physician. It should ideally be taken on empty stomach before meals. Take 1 each of Tulsihills capsule & Amlahills capsule twice daily after meals or as recommended by the Healthcare Practitioner. For better results it should be taken with warm water.
Caution :
Pregnant or lactating women are advised to consume Herbal Products under advise of the physician. Store in a cool dry place. Keep out of reach of children. Protect from sunlight.
Disclaimer :
These statements have not been evaluated by the Food & Drug Administration. This product is not intended to diagnose, treat, cure or prevent any disease.
Size of the Packing:
Length : 14.5 cm
Width : 5 cm
Height: 10 cm
Product Weight : 170 gms