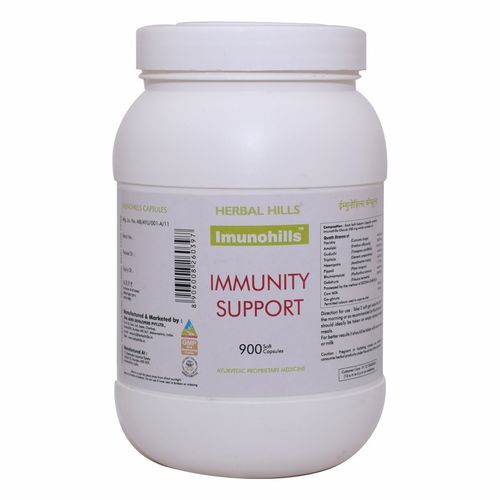 Imunohills - Value Pack 900 Capsule
Product Code : 165
Product Description
Imunohills Value Pack 900 Soft gel capsules : Immunity Support
Imunohills soft capsule is a classical combination of herbs which are traditionally used to build the immunity.
- Amla is known as a powerhouse of Vitamin C which is known to improve immunity. It is known as one of the best rejuvenator.
- Guduchi (Gulvel) also known as Potent Rasayana in traditional science, which helps in improving body's resistance power, helps increase the effectiveness of white blood cells and builds up the body's immune system. Guduchi also called as Amrita (nectar associated with immortality), which signifies its importance in traditional science.
- Gokshura is considered as a wonder herb which works as detoxifier and rejuvenator. It cleanses impurities through the urinary tract and also helps in strengthening the immunity system.
Benefits :
- Helps support a healthy Immune system
- Supports in rejuvenating the damaged body tissue
- Helps in infusing strength in the body tissue thereby improving vitality.
- Powerful antioxidant protection

Direction of Use:
Take 2 soft gel capsules in the morning or as recommended by the physician.It should ideally be taken on empty stomach before meals. For better results it should be taken with with water or milk.