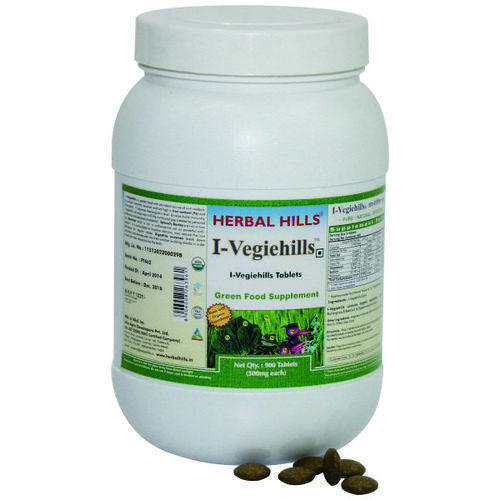 Iron Tablet
Product Code : 0120
Product Description
Green Food Supplement
I-Vegiehills Value Pack 900 Tablets
I-Vegiehills contains organic vegetables - Spinach, Barleygrass & Beetroot which are high in Iron (Fe) content and chlorophyll. It is a perfect food with abundant source of anti-oxidant, co-nutrient, vitamins, minerals and Iron (Fe). I-Vegiehills is an easy way to fill the nutritional gap created by personal preference and seasonal availability. Spinach, Barley are rich in Iron (Fe) and Beetroot which is rich in anthocyanins act as powerful anti-oxidant. It is formulated to improve stamina, may reduce the iron deficiency on regular intake. Digestive enzymes break down polymeric macromolecules into their smaller building blocks in order to facilitate their absorption by the body.

Did you Know ...
I-Vegiehills contains Iron Vegetables such as Spinach, Barley grass & Beetroot.
Iron is an essential mineral used to transport oxygen to all the parts of the body.
Spinach contains good quantities of iron, beta carotene and several vital antioxidants.
Barley Grass is rich in iron, calcium, beta carotene. Beetroot, besides being a rich source of iron, is also a great source of nitrates, which helps to improve the health of arteries and control blood pressure.
Benefits :
Provides essential nutrients to maintain health of the eyes
Helps improve blood circulation to the whole body
Acts as an excellent tonic for the eyes and the blood vessels
Antioxidant and helps to enhance Immunity
Direction for use :
Take 2 tablets twice a day for maintaining good health. It should be ideally be taken on empty stomach before meals. For better results it should be taken with warm water.
Caution : Pregnant or lactating women are advised to consume Herbal Products under advise of the physician. Store in a cool dry place. Keep out of reach of children. Protect from sunlight.

Disclaimer : These statements have not been evaluated by the Food & Drug Administration. This product is not intended to diagnose, treat, cure or prevent any disease.
Size of the Packing:
Length : 9 cm
Width : 9 cm
Height: 16.5 cm
Product Weight : 620 gms