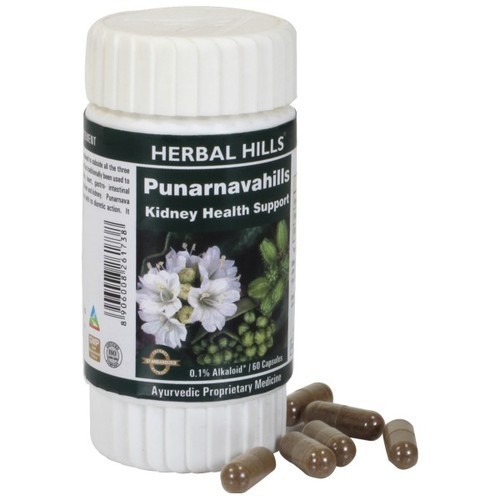 Kidney Disease Ayurvedic Treatment
Product Code : 0192
Product Description
Kidney Health Support
Punarnavahills - 60 Capsules
According to Ayurveda, Punarnava is believed to subside all the three doshas i.e Vata, Pitta, Kapha. The plant has traditionally been used to reduce edema associated with kidney, heart, gastro- intestinal disorders. It nourishes and supports the liver and kidney. Punarnava helps maintain efficient kidney functions with its diuretic action. It helps rejuvenate the renal functions.
Did you Know...
Each capsule contains 100 mg Punarnava Powder and 250 mg of extract (as dry extract) from Punarnava whole plant (Boerhaavia diffusa) (50:1) (equivalent to 12500 mg of Gokshur whole plant). When assayed these capsules contain Alkaloids NLT 0.1%.
The name itself suggests rejuvenation. It mainly acts on the urogenital system by removing the extra debris & strengthens the system.
Benefits :
Helps in maintaining efficient kidney functions
Helps in toning of the urinary tract
Supports the body's natural ability to expel fluids & prevent water retention
Direction for use :
Take 1 capsule twice daily preferably after meals or as recommended by the physician.
For better results it should be taken with warm water.

Caution :
Store in a cool dry place away from direct sunlight. Keep out of reach of children.

Disclaimer : These statements have not been evaluated by the Food & Drug Administration. This product is intended to enhance general health and is not intended to diagnose, treat, cure or prevent any disease
Size of the Packing:
Length : 5 cms
Width : 5 cms
Height: 10 cms
Product Weight : 72 gms