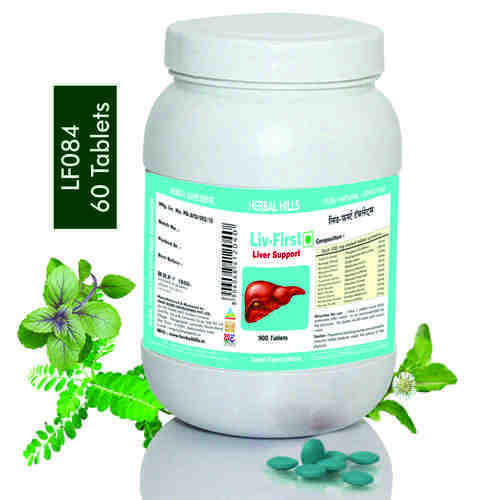 Product Description
Liv-First Value Pack 900 Tablet - ::Liver Support::

Main Ingredients :
Kalmegh, Bhuiamla, Bhringraj, Tulsi, Sharpunkha, Punarnava, Guduchi
Liv-First
is a herbal formulation with the best herbs in Ayurvedic herbalism. It supports the body's natural ability to regulate the Liver functions.

Guduchi
is considered to act as a rasayan on account of its antioxidant properties. It helps promote Immunity and aids removal of toxins form the liver and kidneys.
Kalmegh
is considered to have hepatoprotective and immunostimulant properties. It helps stimulate expulsion of bile from the liver.
Bhringraj
promotes the metabolism of liver and helps improve the strength of the body.

Punarnava
is considered to be a natural toner of the liver. It is said to recondition the liver and purify the blood, thus aiding in increasing the haemoglobin in the blood.

Benefits :
Supports healthy liver functions
Helps control fatty infiltration in the liver.
Helps control hepatocellular regeneration
Helps promote appetite
Direction for use :
Take 1 tablet twice daily preferably after meals or as recommended by the physician. For better results it should be taken with warm water.

Caution :
Pregnant or lactating women are advised to consume Herbal Products under advice of the Healthcare Practitioner.
Store in a cool dry place. Keep out of reach of children. Protect from sunlight.

Disclaimer :
These statements have not been evaluated by the Food & Drug Administration. This product is intended to enhance general health and is not intended to diagnose, treat, cure or prevent any disease