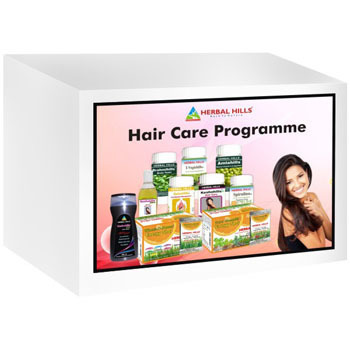 Medicines for Hairfall
Product Code : 2049
Product Description
Hair Care Programm
Hair Care Programme - 10 products
Amlahills
Detoxhills
Wheat-O-Power Orange Flavour
Super Greenhills Orange Flavour
Keshohills
Spirulina
I-Vegiehills
BrahmiHills
Keshohills Ultra Hair Wash
Keshohills Oil Ultra
Benefits :
Green Food products provides Nutrition
Detoxhills & Amlahills creates Favourable environment for hair growth
Keshohills & Brahmihills for Hair Growth promotion & Protection
Keshohills Hair Oil & Keshohills Hair Wash for Daily Hair Care
Direction for use :
Duration In Week

Day

BeforeBreakfast

After Dinner

1St 2 Week s

Daily




2 Detoxhills tabs

1St to 10th Week

Monday ,Wed &
Friday

2 Tabs I-Vegiehills &
1 Sachet Wheat – O Power Orange

2 Tabs Keshohills
2 Caos Amlahills

1st to 10th Week

Tuesday , Thursday
& Saturday

2 Tab Spirulina
1 Sachet Greenhills Orange

2 Tabs Keshohills

2 Tabs Brahmihills



Daily Hair Care

Morning Shower

Keshohills Ultra Hair Wash : Take sufficient quantity,
Apply on scalp, from and wash. Repeat if required.




Keshohills Ultra Oil : Apply sufficient quantity of oil on the scalp (Hair Root) With finger tips. Leave it overnight.
Wash with a nature shampoo in the morning. Keshohills oil can be kept on for the whole day asawell.

Caution : Pregnant or lactating women are advised to consume Herbal Products under advise of the Physician. Store in a cool dry place away from direct sunlight keep out of reach of children.