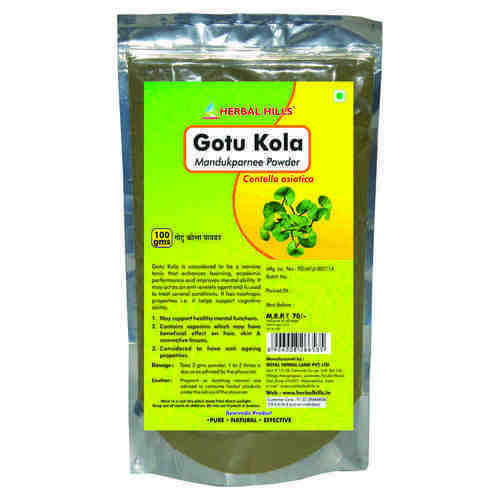 Memory Enhancement
Product Code : 2021
Product Description
"Gotu Kola (Mandukparnee) - 100 Gms Pouch
Gotu Kola is a nervine tonic that enhances learning, academic performance and improves mental ability. It acts as an anti-anxiety agent and is used to treat several conditions. It also calms restlessness in children. It is used as a nootropic i.e. it helps enhance cognitive ability.
Benefits :
Supports healthy mental functions.
Contains saponins which have beneficial effect on hair, skin & connective tissues.
It has anti ageing properties
Direction for use :
Take 3 gms powder, 1 to 2 times a day or as advised by the physician.
Caution :
Pregnant or lactating women are advised to consume Herbal Products under advise of the physician. Store in a cool dry place. Away from direct sunlight. Keep out of reach of children.
Disclaimer:
This product is not intended to diagnose, treat, cure or prevent any disease.

Size of the Packing:
Length : 10.5 cm
Width : 3.2 cm
Height: 20.4 cm
Product Weight : 105 gms"