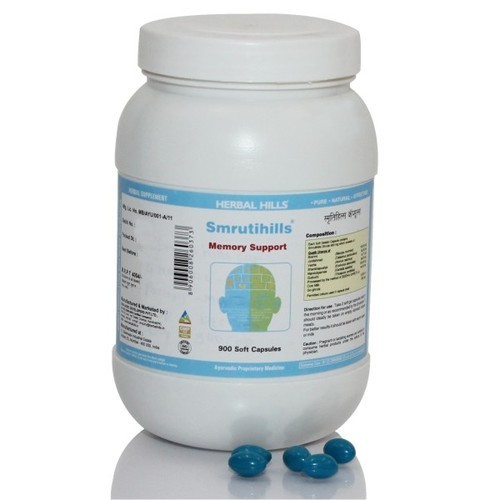 Memory Enhancement Supplement
Product Code : 2028
Product Description
Smrutihills Value Pack 900 Soft Capsules
Memory Support

Smrutihills soft capsule is a unique nervine tonic for mind & memory. As per Ayurveda Brahmi is a great herb for enhancement of memory & learning skill. It helps increase grasping power. Shankhapushpi helps promotes intellectual capacity & increases I.Q. level. Mandukparnee contains many phyto chemicals that supports the bodys vitality & feeds the nervous system. That is why Ayurveda says it is a great adaptogen & nervine tonic.
Did you Know...
Brahmi Traditionally, was used as a brain tonic to enhance memory development, learning, and concentration. It has an active ingredient Bacosides which are considered to improve protein activity and protein synthesis, especially in the brain cells, supporting all aspects of mental performance including concentration, learning, awareness etc.
Mandukparni is valued in Indian system of medicine for its memory enhancing property. It contains asiaticosides which help revitalize the nerve and brain cells
Shankhpushpi contains flavonoids, glycosides, alkaloids which aid in improving its ability and capacity and for rejuvenating nervous functions
Guduchi has an immunostimulant activity; it improves intelligence, power of retention and memory. It helps in reducing anxiety and stress.
Benefits :
Supports normal Memory, learning & concentration
Has anti stress and anti anxiety activity
Acts as a stimulator
Has an adoptogenic effect
Direction for use : Take 2 soft gel capsules daily in the morning or as recommended by the Physician. It should ideally be taken on empty stomach before meals. For better results it should be taken with warm water or milk.
Caution :
Pregnant or lactating women are advised to consume Herbal Products under advice of the Healthcare Practitioner.
Store in a cool dry place. Keep out of reach of children. Protect from sunlight.

Disclaimer :
These statements have not been evaluated by the Food & Drug Administration. This product is intended to enhance general health and is not intended to diagnose, treat, cure or prevent any disease.
Size of the Packing:
Length : 9 cms
Width : 9 cms
Height: 16.5 cms
Product Weight : 600 gms