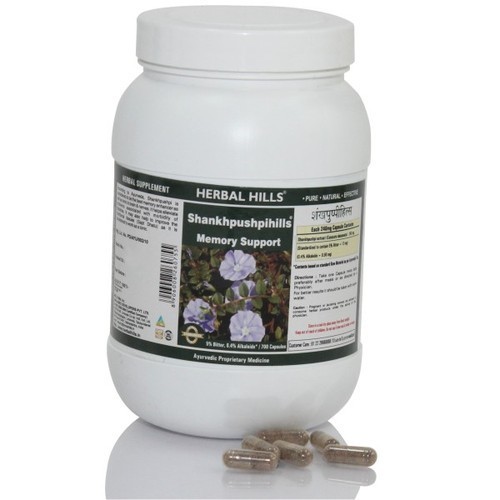 Memory Supplement
Product Code : 2024
Product Description
Shankhpushpihills - Value PAck 700 Capsules
Memory Support

According to Ayurveda, Shankhpushpi is considered to be the best memory enhancer as well as tonic to brain & nerves. It helps improve memory power and intellect, alleviate problems associated morbidity of tridoshas. Herbal may also help to improve the Nutritional tissues (Sapt Dhatu) as it is considered to work as a tonic for enhancing memory power.
Did you Know...
Each capsule contains 240 mg of extract (as dry extract) from Shankhpushpi Whole plant (Convolvulus pluricaulis) (20:1) (equivalent to 4800 mg of Shankpushpi whole plant.) When assayed these capsules contain Bitters NLT 5%, Alkaloids NLT 0.4%.
Since ancient times It is used as a brain tonic especially for children. It's anxiolytic & anti-depressant activity helps in maintaining normal blood pressure. It's safety & neuro-protective activity helps in persons who are old to maintain their cognitive health.
Benefits :
Acts as Neuro protective
Has Anxiolytic / Antidepressant properties
Helps in cognitive brain function
Helps to calm the nervous system
Helps to support cognitive health & longevity
Direction for use :
Take 1 capsule twice daily preferably after meals or as recommended by the physician.
For better results it should be taken with warm water.

Caution : Pregnant or lactating women are advised to consume Herbal Products under advise of the Healthcare Practitioner.
Store in a cool dry place away from direct sunlight. Keep out of reach of children.

Disclaimer : These statements have not been evaluated by the Food & Drug Administration. This product is intended to enhance general health and is not intended to diagnose, treat, cure or prevent any disease.
Size of the Packing:
Length : 9 cm
Width : 9 cm
Height: 16.5 cm
Product Weight : 380 gms