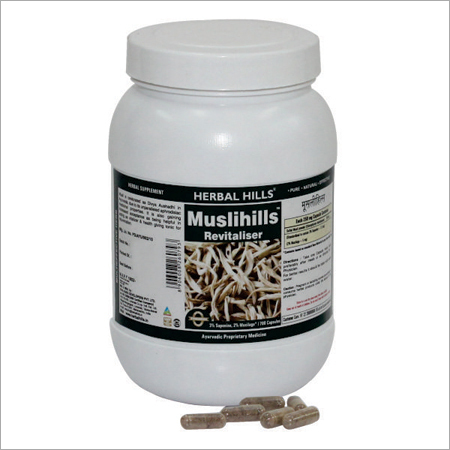 Muslihills - Value Pack 700 Capsule
Product Code : 228
Product Description
Muslihills Value Pack 700 capsules : Revitaliser

-Each capsule contains 250 mg Musli Roots Powder
- In Ayurvedic herbalism for thousands of years, Musli historical use as Divya Aushadhi is considered to be due to its unparalleled aphrodisiac medicinal properties. It is also gaining increased acceptance as being helpful in acting as vitalizer & healthy giving tonic for rejuvenation. This has been backed up with numerous modern scientific studies demonstrating the positive effect of its component herb to act an aphrodisiac, vitalizer and tonic that strengthening immunity and physical stamina.
Benefits :
- Acts as a Revitaliser
- Helps in counteracting sexual debility
- Helps in providing essential sexual nourishing activity
- Helps tone muscles
- Helps to rejuvenate the body

Direction of Use:
Take 1 capsule twice daily preferably after meals or as recommended by the physicianFor better results it should be taken with warm water.