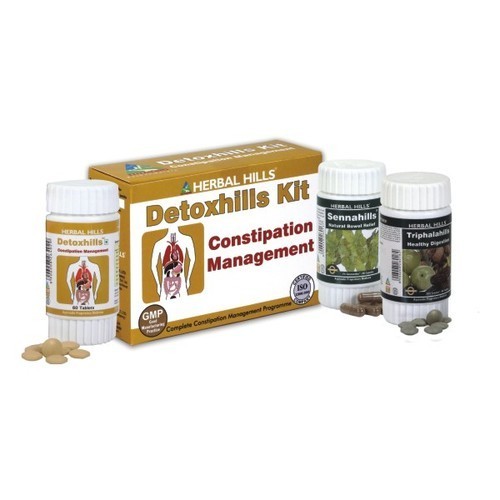 Natural Detox Cleansing
Product Code : 2106
Product Description
Colon Cleanser Kit
Contains
1) Detoxhills 60 tablets
2) Sennahills 60 capsules
3) Triphalahills 60 tablets
Main ingredient Detoxhills Formulation supported by Single herb Sennahills Single herb Triphalahills to give Complete, effective & speedy result in Constipation Management
1) Detoxhills 60 tablets : Constipation Management
Detoxhills is a natural, safe and effective colon cleanser. Triphala is an age old, tested combination to treat constipation. Apart from treating constipation, it also helps in improving digestion and appetite. It creates a conducive environment in the intestine for absorption of nutrients and thus improves overall health. Trikatu is an excellent digestive combination. Nishottar, Haritaki helps to cleanse colon by their mild purgative action. Bahava magaj helps to form stools.
Benefits :
Helps in Healthy Digestion, Colon Cleanser, Constipation Management, Helps in Natural Bowel Relief, Reduces acidity
2) Sennahills 60 capsules : Natural Bowel Relief
Senna leaves is considered as a powerful purgative and may be useful in the treatment of habitual constipation. It may act a coolant and helps in clearing heat that can lead to bloating & discomfort in the digestive system.
Benefits :
Helps in making bowel movements easier & facilitates explusion of toxins out of the body. Helps maintain healthy digestive functions

3) Triphalahills 60 tablets : Healthy Digestion
Triphala literally means 3 fruits. It consists of Haritaki, Baheda & Amla. Triphala is considered to be a wonder herb that is comprehensively used by ayurvedic physicians to treat various disorders. Though it is widely used as a laxative, but there are certain secrets about triphala. It is not just a laxative but is considered to be a powerful body stimulant that helps promote health and assist in managing overall conditions of the body. It helps to detoxify and cleanse our body to rejuvenate all the body organs and thus may help in making it young and energetic. It helps maintain healthy blood circulation.
Benefits :
Helps to promote good colon health. Helps in removing toxins from the body & increases energy.
Helps to accelerate cleansing activities in the digestive system against gas, bloating, constipation
Helps to provide overall support for the digestive functions.
Direction for use : Take 1 tablet of Detoxhills at bedtime. Take 1 each of Sennahills capsule & Triphalahills tablet after meals or as recommended by the Physician. For better results it should be taken with warm water.
Caution :
* Pregnant or lactating women are advised to consume Herbal Products under advise of the Healthcare Practitioner. Store in a cool dry place. Keep out of reach of children. Protect from sunlight.
* These statements have not been evaluated by the Food & Drug Administration. This product is not intended to diagnose, treat, cure or prevent any disease.
Size of the Kit :Length : 14.5 cms
Width : 5 cms
Height: 10.25 cms
Product Weight : 300 gms