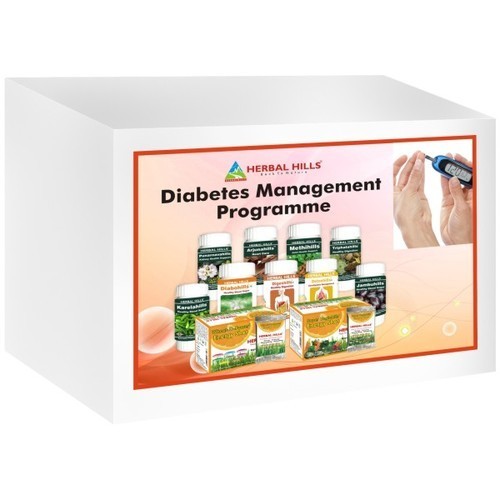 Natural Treatment for Diabetes
Product Code : 2137
Product Description
Diabetes Management Programme
Diabetes Management Programme - 11 products
Wheat-O-Power Orange Flavour
Super Vegiehills Orange Flavour
Detoxhills
Digeshills
Diabohills
Karelahills
Triphalahills
Methihills
Punarnavahills
Arjunahills
Jambuhills
Benefits :
Green Food products provides Nutrition & Energy for Diabetic patient
Detoxhills, Digeshills & Triphalahills improves digestion
Diabohills, Karelahills & Jambuhills Controls Blood sugar
Methihills Controls cholesterol,
Punarnavahills & Arjunahills Delays complication created by Diabetes
Direction for use :
Duration In Week

Day

Before Breakfast

After Dinner

1St 2 Weeks

Daily




2 Detoxhills tabs.

1St to 10th Week

Monday , Wednesday &
Friday

2 Tabs Super Vegiehills
2 Tabs Digeshills

2 Tabs Diabohills
2 Caps Karelahills
2 Caps Methihills

1st to 10th Week

Tuesday , Thursday
& Saturday

2 Tabs Wheat -O- Power
2 Tabs Punarnavahills

2 Caps Jambuhills
2 Caps Arjunahills
2 Tabs Triphalahills

Caution:
Pregnant or lactating women are advised to consume Herbal Products under advise of the Physician. Store in a cool dry place away from direct sunlight keep out of reach of children.