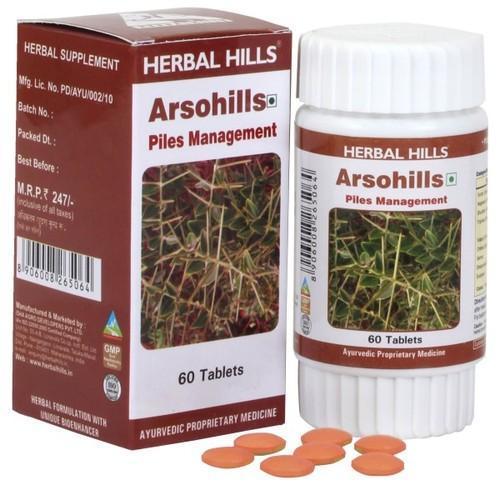 Piles Ayurvedic Treatment
Product Code : 176
Product Description
Arsohills - Piles support 60 Tablets

Arsohills is a herbal formulation of time tested Ayurvedic herbs known for their beneficial effects in treating piles. Pilehills has astringent properties and the combined action of the herbs reduce the bulk of hemorrhoids and heal the mucous membrane. It improves digestion. Suran acts as a lubricant and stool softener & eases the passage of stools. It helps to correct the hepatic activities and regulates the bowel movement. Nagkesar has astringent and laxative properties. Vidang has stimulating, cooling, laxative and carminative properties.
Suggested use :

• May help control bleeding of piles though astringent action
• Helps control constipation & pain
• Acts as anti inflammatory agent
• Softens stools and eases passage of stool
Directions for use :
Take 1 tablet twice daily preferably after meals or as recommended by the physician. For better results it should be taken with warm water.