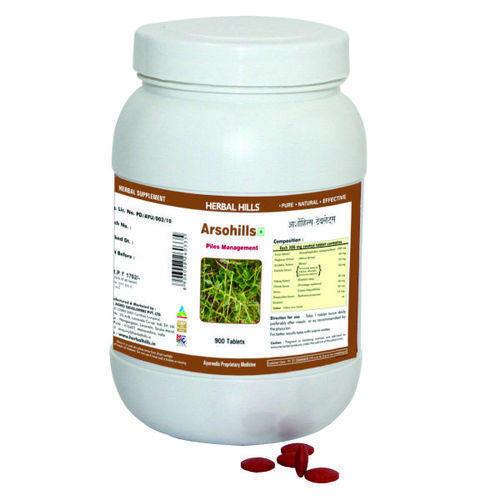 Piles Medicine
Product Code : 2109
Product Description
Arsohills - Piles Management 900 tablets
Main Ingredients : Suran, Senna, Triphala, Nagkeshar, Vidang, Sharpunkha
The selection of herbs in Arsohills is based upon a long-standing use of these effective herbs in the management of Piles and other ano-rectal disorders.
Suran is well known as a lubricant and stool softener & eases the passage of stools. It helps to correct the hepatic activities and regulates the bowel movement.
Nagkeshar also works as a hemostatic herb- which reduces the excessive bleeding.
Vidang improves digestive activity and serves as a mild laxative.
Numerous modern scientific studies support the positive effects of the component herbs to relieve pain, itching, bleeding & the burning sensation associated with hemorrhoids and fissures. They also help improve digestion and regulate bowel movements to prevent recurrence or relapse of Piles
Benefits :
Supports control the swelling of hemorrhoids
Helps control constipation & pain
Helps to facilitate the bowel movement
Act as a coolant
Directions for use : Take 1 tablet twice daily preferably after meals or as recommended by the physician. for better results it should be taken with warm water.

Caution:
Pregnant or lactating women are advised to consume Herbal Products under advise of the Healthcare Practitioner. Store in a cool dry place. Keep out of reach of children. Protect from sunlight.

Disclaimer:
This product is not intended to diagnose, treat, cure or prevent any disease.