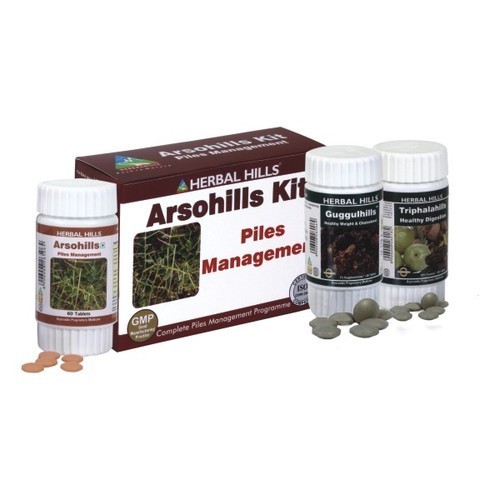 Piles Medicine Treatment
Product Code : 2097
Product Description
Piles Management Kit contains
1) Arsohills - Piles Management 60 tablets
2) Triphalahills - Healthy Digestion 60 tablets
3) Guggulhills - Healthy Weight & cholesterol 60 tablets
1) Arsohills - Piles Management 60 tablets
Main Ingredients : Suran, Senna, Triphala, Nagkeshar, Vidang, Sharpunkha
The selection of herbs in Arsohills is based upon a long-standing use of these effective herbs in the management of Piles and other ano-rectal disorders.
Suran is well known as a lubricant and stool softener & eases the passage of stools. It helps to correct the hepatic activities and regulates the bowel movement.
Nagkeshar also works as a hemostatic herb- which reduces the excessive bleeding.
Vidang improves digestive activity and serves as a mild laxative.
Numerous modern scientific studies support the positive effects of the component herbs to relieve pain, itching, bleeding & the burning sensation associated with hemorrhoids and fissures. They also help improve digestion and regulate bowel movements to prevent recurrence or relapse of Piles

Benefits :
Supports control the swelling of hemorrhoids
Helps control constipation & pain
Helps to facilitate the bowel movement
Act as a coolant
2) Triphalahills - Healthy Digestion 60 tablets
Each tablet contains 250 mg Triphala Fruit Powder and 250 mg of extract (as dry extract) from Triphala fruits (Mixture of Amla, Baheda, Harde) (4:1) (equivalent to 1000 mg of Triphala fruits).
When assayed these tablets contain tannins NLT 26%.In Ayurvedic herbalism for thousands of years, Triphala has been historically used as a digestive cleanser and tonifier This has been backed up with numerous modern scientific studies demonstrating the positive effects of its component herbs on the gastrointestinal tract. In addition, Triphala has been shown to be a Tridoshic rasayana ( Ability to balance Vata, Pitta, Kapha), a potent antioxidant, protecting cells against the damaging effects of free radicals.
Benefits
Acts as a safe & effective colon cleanser
Excellent digestive & metabolic tonic, helps in toning up the Digestive system
Supports effectively in relieving mild to moderate constipation
Balances all the doshas and thus supports overall general health
3) Guggulhills - Healthy Weight & cholesterol 60 tablets
Each tablet contains 500 mg of extract (as dry extract) from Guggul (Commiphora mukul) (6:1) (equivalent to 3000 mg of Guggul exudate). When assayed these Tablets contain Guggulsterone NLT 1%.
The gum resins derived from Guggul tree are known to possess anti-inflammatory activity. Besides, it also has strong anti-lipidemic property, which helps in the management of normal cholesterol levels.
Benefits :
Anti-lipidemic activity delays accumulation of fatty substances which helps in weight management
Anti-inflammatory & analgesic property helps relieving joint pain
Direction For Uses :
Take 1 tablet each of Arsohills, Triphalahills & Guggulhills twice daily after meals or as recommended by the physician. For better results it should be taken with warm water.
Disclaimer :
These statements have not been evaluated by the Food & Drug Administration. This product is not intended to diagnose, treat, cure or prevent any disease.
Size of the Kit :Length : 14.5 cms
Width : 5 cms
Height: 10 cms
Product Weight : 200 gms