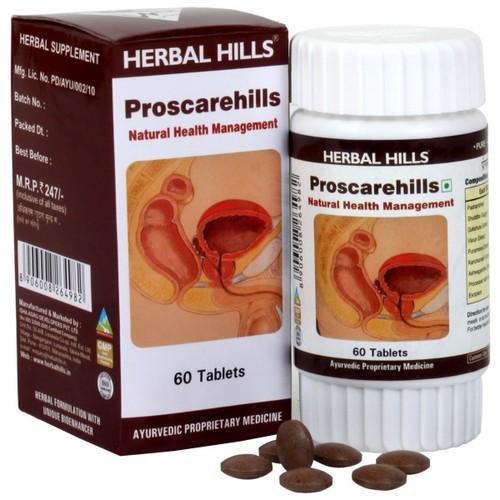 Prostate Care Medicine
Product Code : 01995
Product Description
Prostate Support
Proscarehills is the natural way to a healthy prostate. Proscarehills is a balanced formula of time tested herbs known in Ayurveda for promoting prostate health. Pashanbhed supports bladder by acting on the crystalloid-colloid balance and maintaining optimum urinary tract health. Gokshura promotes the flow of urine and soothes the membrane of the urinary tract. Varun and Punarnava are diuretic and anti inflammatory and help to maintain the overall health of the urinary system. Kanchanar is known to reduce glandular swelling. Ashwagandha has immuno modulatory and anti inflammatory properties. Kulath has the property to reduce the size of swollen and fibrous tissue.
Did you Know...
Pashanbhed has diuretic properties and supports healthy prostate functions
Gokshur also known diuretic and also known for its anti inflammatory and lithotriptic activity
Varun has diuretic, anti-inflammatory, lithontriptic (stone dissolving or destroying in the organs) and tonic (stimulant) properties.
Kanchanar contains Flavonoids quecetin which is considered to have anti inflammatory, nephro protective and antioxidant properties.
Guggul contains active ingredients Guggulsterones that have anti inflammatory properties & inhibits promoter activity of androgen receptor.
Benefits :
Helps support healthy prostate size. Assists in proper flow of urine by clearing the pathway of urination
Direction for use :
Take 2 tablets twice a day for maintaining good health. It should be ideally be taken on empty stomach before meals. For better results it should be taken with warm water.

Caution :
Store in a cool dry place. Keep out of reach of children. Protect from sunlight.

Disclaimer :
These statements have not been evaluated by the Food & Drug Administration. This product is intended to enhance general health and is not intended to diagnose, treat, cure or prevent any disease
Size of the Packing:
Length : 5 cms
Width : 5 cms
Height: 10 cms
Product Weight : 72 gms