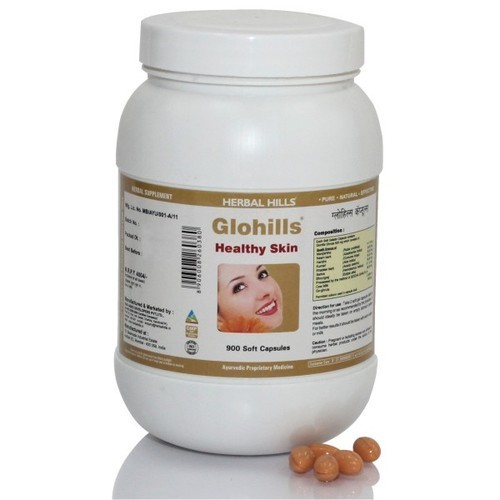 Skin Whitening Pills
Product Code : 2183
Product Description
Glohills 900 capsule : Healthy Skin

Glohills Soft capsule helps to manage the inner beauty of the skin & the outerglow as well. Anti-ageing & wrinkle free skin can be achieved with regular use of our herbal formulation of Glohills. As per Ayurveda text Manjishtha is called as varnya (improves skin complexion), visaghna (detoxifier) & rasayana (rejuvenative). Sariva is considered to be a powerful blood purifier & being an aromatic plant, it helps increase the efficiency of Glohills. Turmeric is the most traditional herb of Ayurveda for improving skin conditions. It is powerful anti-oxidant & supports anti-ageing therapy. Aloevera(Kumari) is widely known for its anti wrinkle property & helps maintain general health of skin.

Did you Know...
The selection of herbs in Glohills Pack is based upon a long standing use as a traditional solution to help the skin look smooth, radiant and youthful.
Arjuna is considered to have astringent properties, thus externally proving beneficial in skin conditions.
Multani Mitti is known to be an excellent cleansing agent and helps stimulate skin cell renewal.
Ambehaldi with its anti bacterial and anti inflammatory properties that soothes the skin.
Numerous modern scientific studies support the positive effects of the component herbs to help protect skins natural moisture balance, stimulate skin cell renewal and maintain skin health.
Benefits :
Helps regulate melanin, controls dark pigmentation and post acne mark.
Helps delay age related skin changes
Supports glowing skin
Helps in the smoothening of skin
Helps to tone & firm the skin.
Directions for uses :
Take 2 soft gel capsules daily in the morning with water or milk. It should ideally be taken on empty stomach before meals.
For better results it should be taken with warm water.


Caution : Pregnant or lactating women are advised to consume Herbal Products under advise of the physician. Store in a cool dry place. Keep out of reach of children. Protect from sunlight.

Disclaimer : These statements have not been evaluated by the Food & Drug Administration. This product is not intended to diagnose, treat, cure or prevent any disease.
Size of the Packing:
Size of the Packing :

Length : 9 cms

Width : 9 cms

Height: 16.5 cms

Product Weight : 600 gms