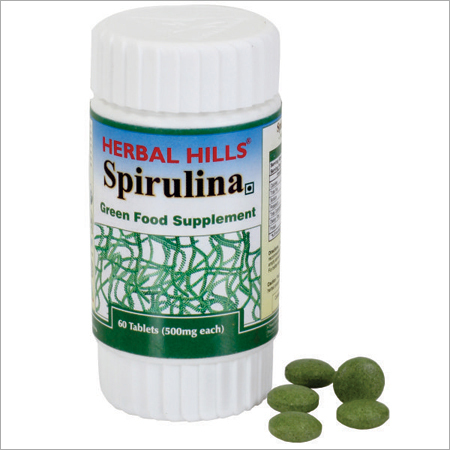 Spirulina 60 Tablets
Product Code : 84
Product Description
Spirulina 60 tablets
Chlorophyll rich Green food


- Spirulina is a single cell plant from the blue-green algae species. It is rich in vitamins, minerals, proteins, anti oxidants & chlorophyll.
- Spirulina is extensively used worldwide as a Nutraceutical food supplement.
- Spirulina a rich source of Chlorophyll, Beta Carotene, Amino acids, Proteins that help in promoting energy, strength & boost Immunity.
- Spirulina is an excellent Rejuvenator and helps in improving vitality
- Antioxidant property helps to fight against free radicals, damaging vital organs
Benefits :
- Helps to Rejuvenate, Energize and Revitalize body and its functions
- Helps to boost Immunity and fight against diseases
- Antioxidant property helps to protect vital organs in long standing diseases.

Direction of Use::
Take 2 tablets twice a day for maintaining good health. It should ideally be taken on empty stomach before meals. For better results it should be taken with warm water