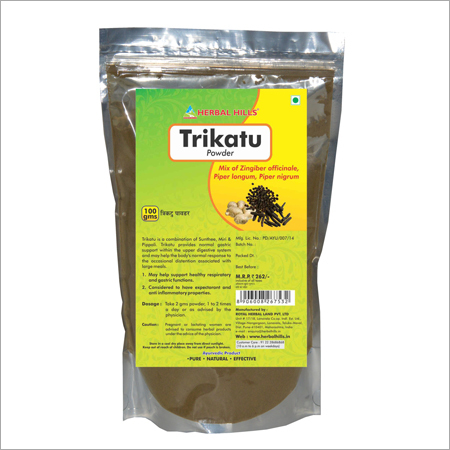 Trikatu Powder
Product Code : 153
Product Description
Trikatu Powder: 100g
Trikatu meaning "3 peppers". It consists of Haritaki, Baheda & Amla. Trikatu churna beneficial for patients of arthritis or aamvata. Trikatu also helps to stimulate the stomach to produce enzymes, thus enhancing digestion. its improves metabolism and reduces obesity.
Key Points:
- It has antioxidant properties.
- Improves Immunity, Appetide, Metabolism & digestion.
- Effective colon cleanser.
Direction of Use:
Take 3.5 gms powder at bedtime or as advised by the physician.
mal'>Take ½ to 1 tsp (3-5g) churna twice daily with water after meals or as directed by physician