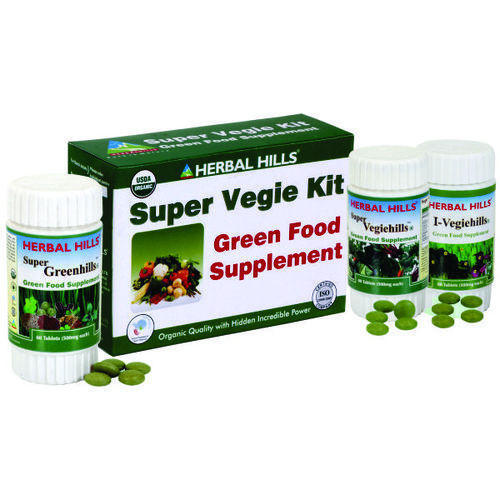 Veggie Supplements
Product Code : 0119
Product Description
Super Greenhills : 60 Tablets
Super Greenhills contains Organic Supper Green food like Wheatgrass, Alfalfa, Barley grass
Super Greenhills contains ingredients to provide nutrition and healing. It contains high amount of Chlorophyll, Flavonoids & some specific enzymes. According to many studies chlorophyll can neutralize toxins found in the body, stimulate the growth of new cells. Super Greenhills help bring a natural balance to the body by detoxification. It provides the necessary enzymes, which may boost energy & Rejuvenates all the body cells.
Benefits :
An excellent combination for daily nutritional requirement. Provides essential micronutrients.
Helps in increasing the energy levels.
Helps to boost immunity which makes the body stronger to fight against infections.
Helps in detoxification
I-Vegiehills 60 tab : Green food Supplement

I-Vegiehills contains organic vegetables - Spinach, Barleygrass & Beetroot which are high in Iron (Fe) content and chlorophyll. It is a perfect food with abundant source of anti-oxidant, co-nutrient, vitamins, minerals and Iron (Fe). I-Vegiehills is an easy way to fill the nutritional gap created by personal preference and seasonal availability. Spinach, Barley are rich in Iron (Fe) and Beetroot which is rich in anthocyanins act as powerful anti-oxidant. It is formulated to improve stamina, may reduce the iron deficiency on regular intake. Digestive enzymes break down polymeric macromolecules into their smaller building blocks in order to facilitate their absorption by the body.


Benefits :
Provides essential nutrients to maintain health of the eyes
Helps improve blood circulation to the whole body
Super Vegiehills 60 tab :

Super Vegiehills contains 7 Super Vegetables.Cabbage, Brocolli, Spinach, Parsley, Carrot, Beetroot, Methi leaves
Super Vegiehills contains ingredients to provide nutrition and healing. It contains high amount of Vitamins, Minerals, Enzymes. The Phytonutrients & nutrients from the plants help to boost energy, increase the body's immunity. Super Vegiehills helps to bring a natural balance to the body by providing the body's daily need of Vitamins & nutrition.


Benefits :
Rich source of dietary fiber.
Acts as an excellent tonic for the eyes, skin and nerves.
Antioxidant and helps to enhance Immunity.
Helps manage healthy cholesterol levels.
Direction for use : Take 6 tablets (2 each of Super Greenhills, Super Vegiehills & I-Vegiehills) in the morning for maintaining good health or as recommended by the Healthcare Practitioner. It should ideally be taken on empty stomach before meals. For better results it should be taken with warm water.