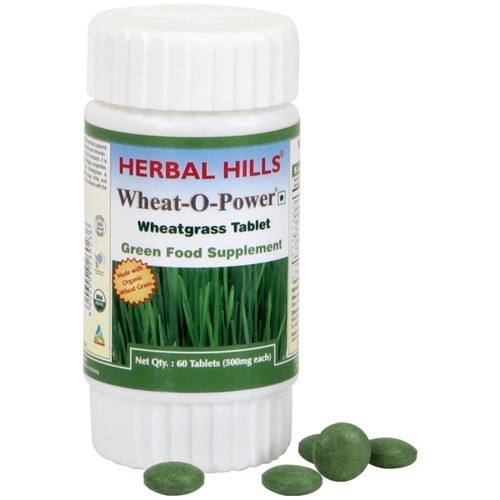 Wheat Grass Tablets
Product Code : 0139
Product Description
Green Food supplement
Wheatgrass 60 tablets -
Wheatgrass is a Perfect food that overcomes nutritional deficiencies & is rich in enzymes. It is a gold mine of Vitamins and minerals. It is said to be an excellent blood tonic which helps in blood purification & to balance haemoglobin count. Wheatgrass is the best available source for living chlorophyll offering high level of energy. It is considered as a natural anti-oxidant & health rejuvenating product. It is believed to be highly effective for weight loss and weight gain.
Did you Know ...
Wheatgrass is effective in supporting various metabolic functions which in turn brings about detoxification of the body systems and further enhances nutrients.
Essential micronutrients in Wheatgrass helps to improve Immunity, making it to be highly useful in diseases like Cancer, Diabetes, Heart ailments & other long standing diseases.
High concentration of Chlorophyll, flavonoids, Enzymes makes it a good choice for every age group from childhood to old age for regular use
Benefits :
Excellent metabolic support & helps in detoxification
Helps improves Immunity, so useful in Healthy Cell Care & Blood sugar control
Good source of Micronutrients & essential elements
Helps to purify blood & enhances blood quality & quantity.
Direction for use : Take 2 tablets twice a day for maintaining good health. It should be ideally be taken on empty stomach before meals. For better results it should be taken with warm water.
Caution :
Pregnant or lactating women are advised to consume Herbal Products under advise of the physician. Store in a cool dry place. Keep out of reach of children. Protect from sunlight.

DisclaimerThese statements have not been evaluated by the Food & Drug Administration. This product is not intended to diagnose, treat, cure or prevent any disease.
Size of the Packing:
Length : 5 cms
Width : 5 cms
Height: 10 cms
Product Weight : 70 gms