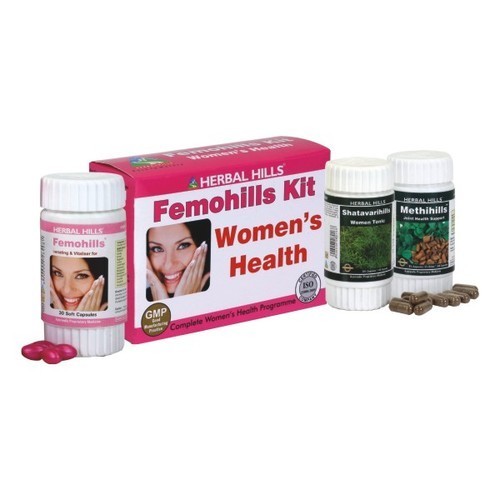 Womens Health Medicine
Product Code : 0118
Product Description
Women's health kit

Women's health kit contains :
Femohills, Shatavari, Fenugreek
Femohills–
Rejuvenating & vitalizer for women
60 soft gels (500mg each)
Femohills soft capsule is best considered as rejuvenative for women health & vitality. Ashoka is best known uterine tonic & common symptoms associated with the menstrual cycle. Lodhra is useful in reducing inflammation of the uterus & helps controlling symptoms like leucorrhoea & menorrhagia. Dashamoola has good anti-inflammatory and analgesic property, helps low backache & other painful conditions.
Suggested Use :
• Symptoms associated with menstrual cycle
• Helps maintain women's health
• Helps maintain healthy uterine functions
• Helps rejuvenation & revitalizing
Directions :
As a dietary supplement take two (2) soft gels once daily, on empty stomach or as directed by a healthcare practitioner
Shatavari– women tonic
60 capsules (450 mg each)
30% saponins
Shatavari is the main rejuvenating ayurvedic herb for women. Shatavari has been safely used in ayurveda for fertility and vitality & may simultaneously improve lactation during pre & post delivery. It helps nourish and cleanse both the blood and the female reproductive organs. Shatavari is also considered to be a source of plant driven estrogen, making shatavari a healthy choice for nursing, menopausal & postmenopausal women.
Suggested use :
• Helps nourish female health & supports female physiological functions
• Helps to rejuvenate, nourish & strengthen the female reproductive organs
Direction for use :
As a dietary supplement take one (1) capsule twice daily preferably after meals with warm water or as directed by a healthcare practitioner.
Fenugreek –
Anti arthritic & rheumatic 60 capsules (500 mg each)
8% saponins, 5% bitter
Fenugreek is considered to be very effective anti-inflammatory herb & may help relieve symptoms related to joint pains. Fenugreek herb has an immense healing power and is considered to be important in the treatment of rheumatic disorder. Being rich in dietary fibers, helps maintain healthy blood sugar levels. Helps elevate prolactin level.
Suggested Use :
• Helps to relieve uterine swelling & pain
• Helps maintain uterine health
Directions For Uses :
Take 2 Femohills capsules in the morning wityh warm water or milk. It should ideally be taken on empty stomach before meals. Take 1 eah of Shatavarihills & Methihills capsule twie daily after meals or as recommended by the physician. For better results it should be taken with warm water

Cautions :
Pregnant or lactating women are advised to consume Herbal Products under advise of the physician. Store in a cool dry place. Keep out of reach of children. Protect from sunlight.

Disclaimer :
These statements have not been evaluated by the Food & Drug Administration. This product is not intended to diagnose, treat, cure or prevent any disease.
Size of the Kit :Length : 14.5 cms
Width : 5 cms
Height: 10 cms
Product Weight : 170 gms